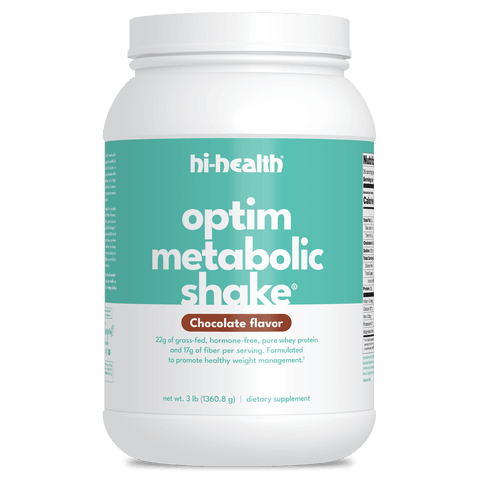 Hi-Health Optim Metabolic Shake (3 lbs)
SKU:

68922
Enjoy a delicious, satisfying Optim Metabolic Shake® made with Udder Bliss® New Zealand Grass-Fed Whey Protein to support a healthful and balanced weight management program that includes a wholesome diet and active lifestyle.* Each serving is loaded with 22 grams of pure whey protein, 11 grams of fiber, yet is light on calories and sugar. Enjoy this smooth and delicious shake designed to nourish you while helping to promote metabolic wellness and healthy weight management.*
How does the Optim Metabolic Shake® work?
Optim Metabolic Shake® is carefully formulated to include an optimal blend of Udder Bliss® New Zealand Whey Protein, low-carbs and substantial fiber. The Fibersol®-2 helps you feel fuller longer.* Udder Bliss® Whey Protein is non-GMO, hormone-free (rBGH and rBST free), antibiotic-free, pesticide-free, chemical-free, soy-free and grain-free. We've eliminated all these additives, to keep things simple and provide pure, all-natural protein your body can feel good about. We've also ensured our shake has no artificial sweeteners, flavors, colors, or high fructose corn syrup.
What's in the Optim Metabolic Shake®?
Fibersol®-2, a good source of soluble plant-based dietary fiber helps fill you up and balance blood sugar levels within its normal range.*

22 grams per serving of Udder Bliss® New Zealand Whey, a 100% all-natural whey protein from grass-fed, hormone-free cows.
Zero calorie, plant based, natural stevia sweetener. Never any artificial sweeteners.
Chocolate
Vanilla
Additional Info
EASY DIRECTIONS: As a dietary supplement, add 1 scoop of Optim Metabolic Shake® to 8-9 oz of cold water or your favorite beverage and thoroughly mix with a spoon or shaker until smooth. Take 1 to 2 servings daily.
WARNING: Very low calorie protein diets (below 400 calories per day) may cause serious illness or death. Do not use for weight reduction in such diets without medical supervision. Not for use by infants, children, or pregnant or nursing women.
Recommended Uses
Weight Management, Fitness Nutrition