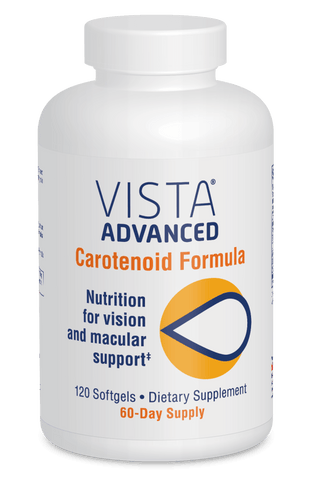 VISTA® Advanced Carotenoid Formula (120 softgels)
SKU:

68861
Formulated to optimize antioxidant levels in the macula, providing protection from oxidative stress and supports vision.*
60-day supply
Scientifically proven superior to competitor formulas in both potency and efficacy by 3rd party, independent laboratories
28 mg blend of lutein, zeaxanthin, meso-zeaxanthin, and astaxanthin.
Rich in high quality omega-3 fatty acid called Docosahexaenoic Acid (DHA).
Powerful antioxidants including Bilberry and Vitamin E to aid in the prevention and treatment of age-related opthalmic diseases.*
90-Day Money Back Guarantee
VISTA® Advanced Carotenoid Formula
It is easy to take healthy vision for granted. When everything is working well, few people stop to consider the best way to protect and preserve their eyesight. The old adage—you don't know what you've got 'til it's gone—certainly holds true for visual functioning. Neglect today often turns to regret tomorrow.
VISTA® understands how important sharp vision is for allowing you to stay focused on the activities you care about most—regardless of age. Fortunately, simple steps, including getting regular eye exams and fortifying your diet with key nutrients—such as carotenoids and omega-3 fatty acids—can help support ocular health throughout your life.*
Oxidative Stress and the Macula
The high-definition, technicolor 'lens' that we see the world through is due to the macula—the pigmented area on the back of the retina that is densely packed with photoreceptors. While the act of seeing feels effortless, behind the scenes the macula is hard at work—frantically collecting and sending visual sensory information to brain. This constant firing is energetically demanding, hence why the macula consumes more oxygen than any other tissue in the body.1
The upshot is that our crisp, color-filled vision creates and an astonishing amount of metabolic waste. Without a steady stream of neutralizing antioxidants, the macular tissue is extremely susceptible to oxidative stress. Overtime, the heavy bombardment of highly reactive oxygen species takes a toll on our eyes and may lead to glare sensitivity (especially when driving at night), reduced contrast sensitivity (resulting in difficulty reading under low illumination), slower hand-eye coordination, and—most concerning—macular degeneration, which, if left untreated, can result in blurred vision or even blindness.
Curative Carotenoids
Thankfully, protection comes in the form of three specific carotenoids—lutein, zeaxanthin, and meso-zeaxanthin. Carotenoids more generally are responsible for giving fruits and vegetables their vibrant pigments (i.e., red, orange, yellow, and purple) in addition to their well-known restorative, antioxidant properties.* Likewise, in the eye, the yellow tint of the macula lutea is due to the presence of the aforementioned carotenoids, which accordingly help to defend the photoreceptor cones against free radical damage. These carotenoids offer a much-needed check on oxidative stress, thus are critical in the fight against macular degeneration.*
Visual Performance
On top of providing excellent antioxidant action, the combination of lutein, zeaxanthin, and meso-zeaxanthin also promotes optimal visual performance.* A study found that daily supplementing with carotenoids for 6-months increased contrast acuity as well as macular pigment optical density.2 Similarly, young adults taking a supplement of said carotenoids over 4-months had significantly better visual processing speeds compared to a control group.3 High acuity and processing speeds lead to faster reaction times, hence why so many professional athletes have turned to carotenoids to improve their game.
VISTA® Advanced Carotenoid Formula
Our Advanced Carotenoid Formula contains a unique 28 mg blend of lutein, zeaxanthin, meso-zeaxanthin, and astaxanthin—another reddish carotenoid found in plants—as well as other salubrious ingredients to optimize antioxidant levels in the macula. Algae oil, which is high in DHA, an essential omega-3 fatty acids, is a potent anti-inflammatory agent that supports, the fluidity of photoreceptor membranes, visual functioning, and retinal integrity by preventing cell death. Bilberry, which contains anthocyanins (plant-based polyphenols), and Vitamin E are both strong antioxidants and may help neutralize harmful free radicals created by normal cell metabolism—especially that of the macula.* This is important considering the pathogeneses of several age-related ophthalmic diseases may involve oxidative stress.
VISTA® Advanced Carotenoid Formula was created by doctors and guided by the latest scientific research to specifically enrich the nutrition in the retina and support macular health.* It meets the highest quality standards and is manufactured in the USA.
Carotenoids: Lutein, Meso-zeaxanthin and Zeaxanthin are known as macular pigments. These pigments are uniquely located in the center area of the retina called the macula/fovea and protect it from oxidative stress.*
Algae Oil: Rich in high quality omega-3 fatty acid called Docosahexaenoic Acid (DHA). The retina has a high concentration of omega-3's, particularly DHA, which optimizes fluidity of photoreceptor membranes, retinal integrity, and visual function.* Furthermore, many studies demonstrated that DHA has a protective, for example antiapoptotic, role in the retina.5
Bilberry: Contains anthocyanins which are plant-based polyphenols that have shown potent antioxidant and anti-inflammatory activities.* Antioxidants play an important role in the prevention and treatment of age-related ophthalmic diseases; whose pathogeneses involve oxidative stress and inflammation.6*
Vitamin E: Mixed blend of delta and gamma isomers. Vitamin E is a strong antioxidant that has excellent absorption and provides protection and support to many of our organs.* In the eye, Vitamin E helps protect from UV light.4
References:
Mahabadi, N., Khalili, Y. A., Neuroanatomy, Retina; NCBI Bookshelf. A service of the National Library of Medicine, National Institutes of Health. StatPearls [Internet]. Treasure Island (FL): StatPearls Publishing; 2020 Jan.
Kvansakul, Rodriguez-Carmona, Edgar, Barker, Köpcke, Schalch,, Barbur (2016). Supplementation with the carotenoids lutein or zeaxanthin improves human visual performance. Ophthalmic Physiol Opt.:362-71. doi: 10.1111/j.1475-1313.2006.00387.x. PMID: 16792735.
Heiting, G. (2020). Sports nutrition: Carotenoids and visual performance. All about Vision. Retrieved from https://www.allaboutvision.com/sportsvision/carotenoids-performance.htm
Schilling R., Health Benefits of Vitamin E Tocotrienols; Review of Dr Barrie Tan's presentation at the 26th Anti-Aging Conference of the American Academy of Anti-Aging Medicine in Las Vegas (Dec 13-15, 2018)
Querques, G., et. al., Retina and Omega-3, Journal of Nutrition and Metabolism Volume 2011, Article ID 748361, 12 pages doi:10.1155/2011/748361
Bungau S., et. al., Health Benefits of Polyphenols and Carotenoids in Age-Related Eye Diseases; Oxidative Medicine and Cellular Longevity Volume 2019, Article ID 9783429, 22 pages https://doi.org/10.1155/2019/9783429
*These statements have not been evaluated by the Food and Drug Administration (FDA). This product is not intended to diagnose, treat, cure, or prevent any disease.
---
Lab Results for Carotenoid Content
Additional Info
Directions: Take 2 soft gels per day. One in the morning and one in the evening with a meal for best results.
Warning: These statements have not been evaluated by the FDA. This product is not intended to diagnose, treat, cure, or prevent any disease.
Reviews
Customer Reviews
Write a Review
Ask a Question
09/02/2023
Donald H.

United States
Skeptical at first
New user with Retinal Occlusion, these were recommended by my Dr and they work!
08/21/2023
Anonymous

United States
My Retinologist recommends this vitamin.
I take these supplements at the recommendation of my doctor. I hope it's doing it's job in slowing the progression of my AMD.
08/21/2023
Margarita F.

United States
Muy bien ...me siento muy bien siento que me a ayudado...gracias
08/07/2023
Connie W.

United States
The vitamines e gels do seem to help the blurriness a bit. Thank you
06/04/2023
Robert R.

United States
Great product
So far it has been working well.