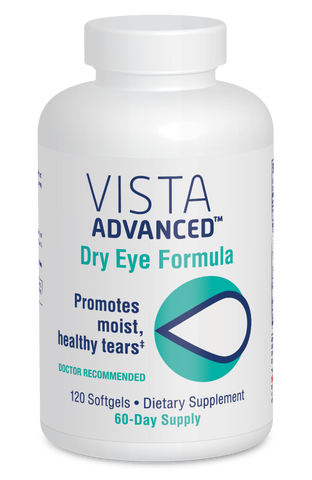 VISTA® Advanced Dry Eye Formula (120 softgels)
SKU:

68862
Formulated to promote moist, healthy tears*
60-day supply
Scientifically proven superior to competitor formulas in both potency and efficacy by 3rd party, independent laboratories
Powerful Omega-3s and GLA to reduce dryness, burning and itchiness*
Hyaluronic acid is a natural moisturizer promoting repair and healing of damaged cells*
Rich in carotenoids, Vitamins B, C & E to provide relief from redness sometimes associated with dry eyes*
90-Day Money Back Guarantee
VISTA® Advanced Dry Eye Formula
That itchy, burning sensation in your eyes is literally and figuratively irritating! Anyone experiencing dry eye syndrome can tell you just how difficult it is to stay focused when your eyes feel like they are on fire.
Causes of Dry Eye
Dry eye is a common problem with many potential underlying causes. Some contributing factors are situational, such as having undergone recent eye surgery (e.g., Lasik, glaucoma, or cataracts surgery) or taking certain medications; others are environmental, including ambient temperature and humidity.
Sometimes dry eye is the result of our sleeping patterns. Getting a full night's rest is important since eyes need time to recover after a long day. If, however, your eyes frequently dry out overnight, this might be because you do not fully close your eyes while snoozing—a condition known as nocturnal lagophthalmos. As many as 20% of people have this condition, but most are unaware of it since the quality and amount of sleep may not be affected. While your body might feel rested, your eyes tell a different story. Even a slight gap between the lids is enough for the air to desiccate your eyes leaving them feeling tired and scratchy the next morning.
Another likely source is the long hours we spend staring at electronic screens. Whether it is for work or leisure—the modern convenience of computers, smart phones, and tablets, unfortunately can result in eye strain. When we fixate on our phones and other screens, the rate of blinking slows to a snail's pace—dropping from approximately 20 to about 4 blinks per minute! When we blink, we are helping to produce and spread tears over the ocular surface. This is what keeps our eyes feeling nice and moisturized.
Although the underlying contributing factors vary, ultimately dry eye syndrome is related to tear production—or rather, the lack thereof. Problems arise when either the number of tears produced is diminished or when the quality of tears is compromised. In some cases, people may struggle with both issues. This condition can get worse overtime if not treated.
Tears—more than meets the eye
Tears are more than just water—they are actually a highly complex mixture of an aqueous solution, phospholipids (oils), and mucus. With every blink, healing tears coat the ocular surface and maintain the health of the eyes by protecting them from infection and outside debris as well as removing cellular waste. The oily component serves a dual function—it helps to retain moisture and to distribute tears evenly across the eye.
Dryness is an annoyance that can ruin your day, but if left untreated, it can potentially damage your eyes. Indeed, dry eye syndrome is a vicious cycle that often intensifies. When too few tears are produced—or when the tears lack an oily layer and evaporate quickly—the eye enters a state of hyperosmolarity. When this occurs, the ocular surface is exposed, and a cascade of inflammatory events (e.g., the release of pro-inflammatory factors and cytokines) is kickstarted. Without adequate lubrication, the likelihood of mechanical damage to the ocular surface increases significantly. This is analogous to running your windshield wipers without fluid. The friction can cause scratches on the eye especially when debris is present. This uncomfortable, gritty sensation results in even more blinking, which perpetuates the nasty problem, and consequently, causes cell death.
Diet and Eye Health
It is often said that you are what you eat. When your diet is unbalanced, the chemistry of your tears will be too, which may result in dryness and irritation. It is recommended to eat foods high in healthy fats (e.g., fish, shellfish, nuts, etc.) and plenty of vegetables. If you are not getting adequate daily nutrients from your diet, then a supplement packed with fatty acids and antioxidants can help fill the gaps.
VISTA® Advanced Dry Eye Formula has been specially formulated in cooperation with leading dry eye specialists to support the production of healthy tears.* Our products are manufactured in the USA and meet the highest quality standards.
This scientifically innovative supplement contains the powerful combination of Omega 3's and GLA to reduce dryness, burning, and itchiness related to chronic dry eye disease.* Additional support comes from Lactoferrin—which naturally occurs in healthy tears. Studies reveal that individuals suffering from dry eye syndrome and experiencing redness and soreness tend to have low levels of lactoferrin. Astaxanthin is an important carotenoid and potent antioxidant that helps to soothe tired eyes.* Hyaluronic acid acts as a natural moisturizer in our body and promotes the repair and healing of the damaged cells in the eye.* Additional ingredients, such as Eyebright, carotenoids, Vitamins B, C & E, as well as flavonoids and tannins, support healthy, moisturized eyes.*
VISTA® Advanced Dry Eye Formula
A unique formula designed to stabilize and hydrate the tears, and reduce symptoms related to dry eyes.
Formulated in cooperation with leading dry eye specialists.
Contains a powerful combination of Omega-3's and GLA to reduce dryness, burning and itchiness related to chronic dry eye disease.
Features a potent antioxidant, Astaxanthin found to reduce eye fatigue.
Found naturally in our cells, Hyaluronic acid is a natural moisturizer promoting repair and healing of the damaged cells related to eye dryness.
Low tear levels of naturally occurring Lactoferrin accounts for redness and soreness experienced for those with dry eye syndrome.
Rich in Vitamins B, C & E, as well as flavonoids and tannins, Eyebright helps provide relief from redness sometimes associated with dry eyes.
Manufactured in the USA in a NSF, cGMP certified facility to the highest quality standards.
*These statements have not been evaluated by the Food and Drug Administration (FDA). This product is not intended to diagnose, treat, cure, or prevent any disease.
---
Lab Results for Carotenoid Content
Additional Info
Suggested Use: Take 2 softgels daily with a meal. For best results, take one in the morning and one in the evening with meals.
Caution: Consult a healthcare professional if you are pregnant/nursing, taking any medication or have a medical condition.
Store in a cool, dry place. Keep out of reach of children.
Reviews
Customer Reviews
Write a Review
Ask a Question
02/15/2023
Amber L.

United States
My doctor recommended them
I started using VISTA® Advanced Dry Eye Formula about two years ago when my doctor gave me a few free sample bottles. It has helped with my dry eye symptoms along with eye plugs, eye exercises, etc... I like that they have Omegas and it's a plus knowing my doctor takes them, too.
12/22/2022
Anonymous

United States
Vista dry eye formula
Pills look exactly like a co q 10 & red yeast rice supplement that I take, so I need to be careful about that. I've started 2 other dry eye treatment regimens at the same time, so I can't speak to the efficacy of this product, though I know all the ingredients are supposed to help. I hope so.
12/06/2022
Sandra P.

United States
Vista Advanced
I'm only about two weeks into the regimen and I was told not to expect results until the bottle was about gone. I do really like that the product is capsules rather than drops. I can just put the capsules into my pill dispenser and I'm good to go.
03/25/2022
Anonymous

United States
Vista Advanced
Have only taken for a few days. Eyes brighter and seem less dry. Have also been using the eye drops & tea tree wash.
11/08/2021
Dianne L.

United States
Vista Advanced Dry Eye Formula
Wonderful...I use it 3 times a day. What an improvement after 3 weeks!! Vista is cool and refreshing to the eye.