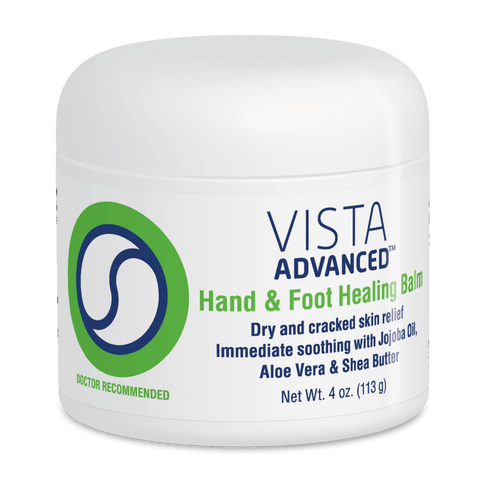 VISTA® Advanced Hand & Foot Healing Balm (4 oz)
SKU:

68875
VISTA® Advanced Hand and Foot Healing Balm is an advanced blend of moisturizers, humectants, and skin-replenishing ingredients that work immediately to soothe dry, cracked skin. Natural oils and extracts work synergistically with rich emollients to penetrate deeply and lock in moisture for long-lasting hydration.
Jojoba Oil, Shea Butter, and Aloe Vera work together soothe dry, cracked skin
Contains powerful antioxidants Vitamin E and C to restore skin
Ideal for diabetics
90-Day Money Back Guarantee
MSRP $25.99
VISTA® Advanced Hand and Foot Healing Balm
Dry skin is a common, albeit uncomfortable, condition. Thankfully, proper care can help soften the roughness. Using a well-formulated healing balm packed with lubricating lipids, hydrating humectants, and moisture-locking ingredients can keep your skin feeling smooth.
What is Dry Skin?
Dry skin—known medically as xerosis cutis—not only looks dull, but it also, quite literally, leaves you feeling uncomfortable in your own skin. The sensation differs from one person to another, but dry skin tends to feel rough, and may also be itchy, flaky, and cracked. Skin that lacks moisture often appears to be ashen, or, if inflamed, red. All areas of body can be affected, however the extremities—especially the hands and feet are particularly prone to dryness.
The Many Layers of your Skin
The skin is the body's largest organ, which covers an area of approximately 20 square feet! The skin has three layers to performs different functions: the epidermis (outer), dermis (middle), hypodermis (inner).
The epidermis has several layers of skin cells (keratinocytes) in different stages of their lifecycle. Stem cells reside in the lower layer and produce skin cells that eventually flatten as they approach the surface. The cells near the surface sit in a mixture of proteins and lipids (fats, such as ceramides, fatty acids, and cholesterol), which gives the skin its ability to retain water and stay hydrated. Healthy skin forms a waterproof barrier, which protects us from the environment, irritants, and menacing microbes.
The middle dermis layer contains connective tissue, such as elastin and collagen, which provides skin with a unique texture that is strong yet flexible. Blood vessels innervate this layer and supply the skin with the oxygen and nutrients it needs to be healthy and moisturized.
The hypodermis consists of mostly fat and acts as an anchor for the skin, and in addition, helps to insulate your body from temperature extremes and absorbs shock.
What Causes Dry Skin?
Dry skin is typically a temporary and minor problem; however, it is often unpleasant and distracting. Everyone experiences it from time to time, however, certain factors can increase one's susceptibility to dry skin or worsen the condition. Many environmental factors and underlying health conditions play a role in determining how your skin feels.
Risk Factors:
Dry Environments: When living in dry, dessert climates or heated indoor environments
Cold Exposure: During cold winter months when humidity tends to be lower
Hot Water: If you take hot baths and showers—especially if they are long
Swimming: If you frequently swim in chlorinated pools
Harsh Soaps: If you use harsh soaps and detergents that strip oil from your skin
Products Containing a Lot of Alcohol: If you overuse products formulated with alcohol (ethanol, denatured alcohol, isopropyl alcohol, SD alcohol, and benzyl alcohol), such as hand sanitizers and certain body products
Products Containing Fragrance/Irritants: Use of hand, body, and face products that contain high amounts of fragrance, volatile oils, and other irritating ingredients
Frequent Hand Washing: If your job requires you to frequently wash your hands
Age: If you are in your 40s or older (more than 50% of older adults have dry skin)
Poor Diet: An unbalanced diet, especially one lacking healthy fats and omega-3l fatty acids
Underlying Skin Condition: If you have a skin condition, such as atopic dermatitis (eczema) or psoriasis
Diabetes: If you have diabetes—poor circulation can impact your skin's ability to stay hydrated
Taking Care of Your Skin
You can do a lot on your own to improve your skin, including using well-formulated moisturizers and avoiding harsh, drying soaps and detergents. Learn to read the labels on hand, body, and hair care products so you can better avoid ingredients that are too harsh or are known irritants. Strive to eat a balanced diet that contains healthy fats and plenty of vitamins and minerals. Your skin needs energy and the proper building blocks to stay healthy and hydrated. Eating foods high in essential fatty acids (especially omega-3s), such as oily fish, shellfish, walnuts, flax seeds, or taking a supplement can help support your skin. Try to avoid excessive salt or sugar or those that spike blood sugar levels—especially if you have diabetes.
Not all cases of dry skin can be easily cared for. Some people may have dry skin that is chronic (long-lasting) and severe. This can potentially result in complications, such as inflammation, cracking, and infections. In these cases, you may need help from a doctor who specializes in skin (dermatologist).
Diabetes and Dry Skin
People with diabetes are especially prone to dry skin since both high blood sugar levels and poor circulation can affect the skin. High blood sugar is dehydrating, and it results in moisture loss from the tissues such as the skin. Poor circulation compounds the matter. The dermis is packed with blood vessels that supplies your skin with the oxygen and nutrients it needs to function properly. Disrupting this supply can result complications, including in dry skin.
VISTA® Advanced Hand and Foot Healing Balm
VISTA® Advanced Healing Balm is a moisture-rich formula that fortifies, repairs, and rejuvenates dry, cracked skin. Emollient plant-based oils and extracts, such as Jojoba Oil, Shea Butter, and Aloe Vera, immediately soothes dry skin. Our replenishing blend of Triglycerides, Lanolin, Allantoin, and Vegetable Glycerin, also locks in moisture for long-lasting hydration. This rich and deeply penetrating formula is ideal for diabetics.
Rich Emollients and Hydrating Humectants: Emollients help to directly soften and moisturize depleted skin. Planted-based Jojoba Oil, Castor Oil, and Shea Butter are renowned for their excellent moisturizing and restorative properties. Jojoba Oil has a similar texture to the natural oils (sebum) produced by skin. In addition to being a moisturizer, Shea Butter is packed with antioxidants, and contains skin replenishing fatty acids. Caprylic/Capric Triglycerides—which is derived from coconut oil and glycerin—also helps to replenish skin. Beeswax is a natural ingredient with emollient properties derived from honeycomb. Humectants attract water from deep within the dermis of the skin and the air and like a magnet pulls these molecules into the epidermis (upper level of skin) where it is needed the most. Allantoin is a humectant and gentle moisturizer that soothes and conditions skin. Castor Seed Oil has emollient properties as well as notable water-binding properties. Glycerin is found naturally in skin where it helps to maintain moisture and defend against dryness. Vegetable Glycerin acts similarly, and helps to restore and replenish skin.
Refresh and Rejuvenate: Aloe vera is a soothing plant extract with antioxidant properties that leaves skin feeling refreshed. Tocopherol Acetate—better known as Vitamin E—is an antioxidant found in the skin and used by the body to combat oxidative stress that can lead to damage overtime. This vitamin becomes depleted when skin is exposed to UV radiation and other environmental pollutants. Ascorbyl Palmitate is a stable form of Vitamin C—which is another well-known antioxidant necessary for healthy skin.
Sealing in the Moisture: Cosmetics-grade Mineral Oil is a safe and extremely powerful emollient that helps to replenish moisture to severely dry skin. It further supports skin by locking in moisture. Lanolin is a rich moisturizer that is ideal for the very dry skin that often burdens the hands and feet.
*These statements have not been evaluated by the Food and Drug Administration (FDA). This product is not intended to diagnose, treat, cure, or prevent any disease.
Ingredients: Caprylic/Capric Triglycerides, Castor Seed Oil, Beeswax, Lanolin, Mineral Oil, Jojoba Seed Oil, Shea Butter, Vegetable Glycerin, Aloe Vera, Tocopherol Acetate, Ascorbyl Palmitate, Allantoin.
Additional Info
Directions: After cleaning, apply to hands or feet where extra moisture is needed.
For external use only. Avoid contact with eyes. Keep out of reach of children. Store in a cool, dry place.
Reviews
Customer Reviews
Write a Review
Ask a Question
03/20/2023
Sharon M.

United States
Miracle
I sent my Dr. a note saying, Thank you for recommending this cream. I called it a "miracle." I'm still battling the dryness, but it is so much better. Thank you for all your work!!!
01/27/2023
Anonymous

United States
Great product! Worked well on my cracked heels.
If you suffer from cracked heels, you've gotta give this product a try. Within a few weeks my cracks were significantly improved.
07/15/2022
Anonymous

United States
vista advance
It seems to be working and I think it takes a little time, I also bad circulation which prolongs the process