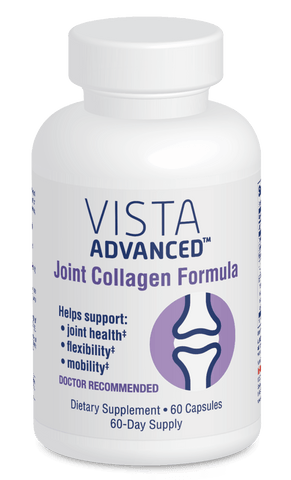 VISTA® Advanced Joint Collagen Formula (60 capsules)
SKU:

68867
VISTA® Advanced Joint Collagen Formula was specially formulated to provide unprecedented nutritional support for joints. This is a potent blend of scientifically researched ingredients that supports healthy cartilage and joint mobility and flexibility.
60-day supply
Clinically tested and proven UC-II® contains undenatured type II collagen that is more than twice as effective as glucosamine + chondroitin in promoting joint health.*
UC-II® Type II Collagen helps to rebuild damaged joint cartilage thereby supporting joint mobility and comfort.*
Contains naturally occurring antioxidants and potent anti-inflammatory ingredients, such as CherryPure™ Tart Cherry, Quercetin, Boswellia, and Optim-C Vitamin C to pack a powerful punch.*
90-Day Money Back Guarantee
MSRP $79.99
VISTA® Advanced Joint Collagen Formula
While the conspicuous human trait of walking upright on two legs allows us to use tools and manipulate our environment—the downside is steep! Human knees are prone to pain, lower backs often ache, shoulders regularly stiffen, and hip joints suffer undo wear and tear. Modern life not only intensifies these problems (due to increasing rates of obesity and sedentarism), but it has also created new issue to contend with. Extended workdays seated at uncomfortable desks, followed by hours hunched over a smart phone has physiological consequences. The pressure on joints has never been higher. Fortunately, targeted nutritional support can help by promoting optimal joint health, flexibility, and mobility.
Anatomy of Joints
Joints occur wherever two or more bones meet, and their anatomy depends on their function and location in the body. Joints can be immoveable (e.g., the joints between cranial bones), partially moveable (e.g., the joints between the vertebra of the spine), or highly moveable (e.g., the freely rotating ball-and-socket joint of the shoulder or the hinge joint of the knee).
Those that are highly mobile are called synovial joints, which are built to be both flexible and stable. There are 6 different types of synovial joints that vary in form, but in general, they are characterized by an outer joint capsule, synovial layer, and joint cavity. The outer capsule is made of fibrous connective tissue and is surrounded by stability-enhancing ligaments. The synovial layer, which is infused with blood vessels, delivers nutrients to joint and produces the synovial fluid that fills the joint cavity. Within the joint cavity, smooth hyaline cartilage covered the articular surface of bones. This cartilage, along with the lubricating synovial fluid, protects the bones from friction and serves to absorb shock.
Health Issues
When joints are heathy, movement occurs smoothly and comfortably. Unfortunately, joint pain is an extremely common complaint—especially arthritis, which has over 100 different variants. Osteoarthritis is the most common form and occurs when the cartilage covering the ends of bones becomes worn and damaged. Rheumatoid arthritis occurs when a person's immune system attacks the synovial lining of the joint. Symptoms can flare-up unexpectedly and commonly (but not always) occur in the hands, wrists, and ankles. Both conditions may result in inflammation, swelling, stiffness, tenderness, or pain, which in turn, may impede or severely restrict movement. A recent estimate suggests that as many as 91 million US adults have some form of arthritis.1 More conservative estimates based on medical diagnosis place the prevalence at 54 million.2
When one's mobility is limited, working, enjoying time with friends and family, going out to events, and exercise is hindered. If a person is in discomfort, predictably their lifestyle might become increasingly more sedentary. Depending on the severity, this can cause downstream, negative health consequences, such as depression, weight gain, and cardiovascular issues, just to name a few.
Joint Support
Given the ubiquity of joint pain, and the risk it poses to individual well-being, finding ways support joint health is critical. Although the direct cause might vary, joint pain is frequently associated with inflammation of and/or damage to the cartilage and connective tissue of the joint. In many cases physiotherapy and prescribed exercises and stretches can help reduce pain and improve mobility—either in place of or following surgery. Nutrition can also play role, since the body, in general, needs a steady supply of vitamins, minerals, and antioxidants to function optimally. Key ingredients, however, can further promote the health of joints.
VISTA® Advanced Joint Collagen Formula
VISTA® Advanced Joint Collagen Formula was created to provide unprecedented nutritional support for joints. This is a potent blend of scientifically researched ingredients that can be easily taken in a daily capsule to support joint, mobility, flexibility, and health. Top ingredients that you trust are combined with naturally occurring ingredients to pack a powerful punch.
UC-II® Type II Collagen: Clinically tested UC-II® Type II Collagen (containing undenatured type II collagen) is proven to be more than twice as effective as glucosamine + chondroitin in promoting joint health. Healthy cartilage allows bones to smoothly glide past one another—free from friction. UC-II® Type II Collagen tackles the problem at the source by helping to rebuild damaged joint cartilage resulting in improved joint mobility and comfort*.G
CherryPURE™ Tart Cherry Concentrate: Tart cherries contain a plethora polyphenolic compounds, especially proanthocyanins, anthocyanins, and flavanols, which have known antioxidant and anti-inflammatory effects.3 CherryPURE™ is the first product of its kind to standardize and concentrate the natural goodness of tart cherries resulting in high levels of the anthocyanins as well as natural melatonin. Research suggests the tart cherry concentrate can temporary help reduce occasional pain and inflammation of the joint.*
Boswellia: Sometimes ancient wisdom prevails. Boswellia—also known as Biblical frankincense—is a botanical herb that grows in the dry mountainous regions of India, Northern Africa and Middle East. It has long been used in Ayurvedic medicine to promote wellness. Research has investigated the anti-inflammatory properties of Boswellia, and suggests that it may promote a healthy inflammation response.*
Quercetin: Parents always remind their children to eat their fruits and vegetables. There are many benefits of doing so, some of which are linked to the high concentration of naturally occurring flavonoids—plant metabolites that may bestow benefits by reducing oxidative stress. Quercetin is one such flavonoid that provides natural support of a healthy response to histamine and inflammation.*
Optim-C® Buffered Vitamin C: While most animals can produce Vitamin C in their bodies, humans eat fruits and vegetables to obtain the daily recommended amounts. It is also water-soluble, and thus is not stored in the bod. Vitamin C is a well-known, and highly researched antioxidant. Our unique formulation contains Optim-C®, which is buffered, so that it is easier on sensitive stomachs and is long-lasting. Optim C and us combined with Alpha Lipoic Acid, which likewise is an antioxidant.*
References:
Jafarzadeh SR, Felson DT. Updated Estimates Suggest a Much Higher Prevalence of Arthritis in United States Adults Than Previous Ones. Arthritis Rheumatol. 2018 Feb;70(2):185-192. doi: 10.1002/art.40355. Epub 2018 Jan 3. PMID: 29178176; PMCID: PMC5788727.
Centers for Disease Control and Prevention. (2018). Arthritis. U.S. Department of Health and Human Services. https://www.cdc.gov/arthritis/data_statistics/national-statistics.html
Chai, S. C., Davis, K., Zhang, Z., Zha, L., & Kirschner, K. F. (2019). Effects of Tart Cherry Juice on Biomarkers of Inflammation and Oxidative Stress in Older Adults. Nutrients, 11(2), 228. https://doi.org/10.3390/nu11020228
*These statements have not been evaluated by the Food and Drug Administration (FDA). This product is not intended to diagnose, treat, cure, or prevent any disease.
Ingredients: Vitamin C (as calcium ascorbate), CherryPURE™ tart cherry (fruit), Quercetin dihydrate, Boswellia serrata extract (gum resin), UC-II® Standardized Cartilage, Optim® Complex [Yucca (root), Alpha lipoic acid, Citrus bioflavonoid extract, Beet (root), Rutin (Sophora japonica L.), Acerola extract 4:1 (fruit), Rose hip (fruit), Echinacea purpurea (aerial parts), Slippery elm (Ulmas rubra) bark]
Additional Info
Suggested Use: As a dietary supplement, take one (1) capsule at bedtime on an empty stomach.
Caution: Consult a healthcare professional if you are pregnant/nursing, taking any medication or have a medical condition.
Store in a cool, dry place. Keep out of reach of children. Do not use if seal is broken.
UC-II® is a trademark of InterHealth N.I. UC-II® brand undenatured type II collagen (U.S. Patents 7,083,820, 7,846,487 and EPO Patent EP1435906B1; Canadian patent CA 2459981C; and Japanese patent JP 4800574B2).
CherryPURE™ is a trademark and brand of Shoreline Fruit, LLC.
Reviews
Customer Reviews
Write a Review
Ask a Question
Too soon to say
I only started this 10 days ago; thus, not in a place to *****. Benefits? Like taking @ nite on an empty stomach. Trust I can continue this, even considering another though it is pricey.
03/05/2022
Anonymous

United States
GOOD PRODUCT
Easy to take. Not one bad side affect.