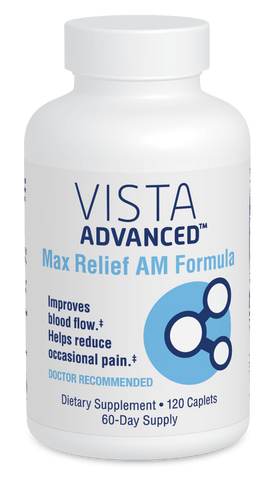 VISTA® Advanced Max Relief AM Formula (120 caplets)
SKU:

68870
VISTA® Advanced Max Relief AM Formula is a cutting-edge, non-prescription dietary supplement designed to support healthy circulation and nerves. Our innovative formula provides the nutrients needed to improve blood flow to help the body heal naturally.*
60-day supply
Improves blood flow to help reduce occasional pain and numbness
B vitamins, Alpha lipoic acid, DL-phenylalanine, & Water-soluble Curcumin Extract
Promotes a healthy inflammatory response and the body's natural healing ability
90-Day Money Back Guarantee
VISTA® Advanced Max Relief AM Formula
It is often difficult to fulfill all the daily nutritional requirements that your body demands to work optimally. Dietary gaps are common, especially if you are not preparing whole-food dishes at home or you have dietary restrictions on what you can eat. In such cases, supplementation can provide coverage so you can meet your specific needs.
Diabetes, Nerve Pain, and Circulation
Although eating well and exercising are vital to health—especially as we age—it is often easier said than done. Modern life is busy and stressful. Our brains are constantly racing at 100 mph, yet our bodies are standing still. Diets tend to be unbalanced—loaded with sugar and processed grains—and lifestyles are far too sedentary. Research suggests that approximately 4 out of 5 adults are not meeting their exercise needs.1
Consequently, the prevalence of obesity, heart disease, and diabetes has increased in past 60 years, and will continue to rise. With respect to diabetes, the incidence is projected to increase by 54% come 2030 and will affect approximately 54 million Americans.2 Diabetes is a condition that is highly influenced by lifestyle. Managing diabetes requires special attention to nutrition and activity.
Normally when we eat food, the pancreas secrets the hormone insulin, which allows our body to use and store sugar effectively. When a person has type 2 diabetes, their body either fails to produce sufficient insulin or no longer responds to it—a condition known as insulin resistance. The upshot is that a person's circulating blood will have an abundance of glucose, which may cause numerous complications throughout the body, including the peripheral nervous system and circulation.
Diabetic peripheral neuropathy (DPN) is when a nerve or group of nerves outside of the brain and spinal cord become injured and dysfunctional. Approximately 20–60% of people with type 2 diabetes experiences DNP to some degree .3 This nerve damage is associated with uncomfortable sensations, especially in the legs and feet. People commonly report feeling numbness, tingling, weakness, burning, and pain. For some individuals, these sensations seem to worsen at night, particularly when attempting to fall asleep. The result is more than just discomfort—it often causes significant sleep deprivation, which may also negatively impact health.
High blood sugar can reap havoc on the epithelial tissue of blood vessels and can lead to poor circulation. Since the blood carries oxygen and nutrients to all the organs and tissues in the body, poor circulation can result in significant damage. Individuals with diabetes are especially prone to issues related to poor circulation in the extremities (arms, hands, legs, and feet).
Nutrients to Support Wellness
Proper nutrition is important for everyone—but this is especially true for individuals with high blood sugar. Everyone benefits when their diet contains nutritionally dense foods packed with natural antioxidants, anti-inflammatory agents, vitamins, minerals, fatty acids, and amino acids (the building blocks of protein). Diet is related to the likelihood of developing diabetes, and for those who already have this condition, meeting nutrition goals critical to maintaining health. A steady intake of foods to help lower inflammation and reduce oxidative stress is ideal for supporting whole-body health, including the nervous and circulatory systems.
Inflammation
Inflammation is a natural and defensive reaction the body has to an injury or infection. Depending on the source and location, an inflammatory response may be characterized by redness, swelling, itchiness, stinging, heat, and of course, pain. While short-term (acute) inflammation is normal, long-term (chronic) inflammation is not. Persistent inflammation that lasts for weeks, months, or longer is a signal of underlying damage or distress.
Chronic inflammation may even play a role in the development of several other seemingly disparate conditions, such as autoimmune diseases (including rheumatoid arthritis), cardiovascular diseases (e.g., high blood pressure), gastrointestinal disorders (e.g., inflammatory bowel disease), lung diseases (e.g., asthma), some types of cancer (e.g., colon cancer), and critically metabolic diseases, such as type 2 diabetes.4
Reducing inflammation involves getting adequate sleep, drinking less alcohol and sugary sodas, not smoking, exercising more, and eating a variety of vegetables that are rich in antioxidants and anti-inflammatory polyphenols.
Nervous System Support
Think B vitamins when you think about brain (and nerve) health. Folate (Vitamin B-9) is not only important for circulation, it also helps address the symptoms of nerve damage such as occasional pain, numbness, and uncomfortable tingling. N* Food high in folate includes greens, such as broccoli, Brussel sprouts, kale, cabbage, legumes, and liver. Vitamin B-6 is essential for normal brain development, the health of the nervous system, and the immune system. Foods high in B-6 include salmon, poultry, beef, tofu, potatoes, and bananas. Vitamin B-12 is involved in the production of red blood cells and the proper functioning of the nervous system. Foods high in B-12 include beef, poultry, fish, dairy, and eggs. People, especially vegetarians, tend to be low on B-12.
VISTA® Advanced Max Relief AM Formula
VISTA® Advanced Max Relief AM Formula is a cutting-edge, non-prescription dietary supplement designed to support healthy circulation and nerves. Our body requires a steady supply of vitamins, amino acids, antioxidants, and anti-inflammatory agents to function at its best. Our innovative formula provides the nutrients needed to improve blood flow to help the body heal naturally.
BioFolate (L-Methylfolate calcium): BioFolate (L-Methylfolate calcium) is an active form of folate that allows the body to stimulate blood flow. Good circulation is critical to help address the symptoms of nerve damage, such as occasional pain, numbness, and uncomfortable tingling. N*
Vitamin B-6 and Vitamin B-12 (methylcobalamin): Both B vitamins are useful in treating neuropathy since they support the healthy functioning of the nervous system. O* Many people are unknowingly low on B-12, especially if they are vegetarian. Vitamin B-12 comes in two forms: cyanocobalamin and methylcobalamin. Methylcobalamin is the bioactive form of B-12 that the body can use directly.
DL-phenylalanine: Amino acids are the building blocks of proteins. Essential amino acids are those that your body cannot make on its own and therefore must obtain from your diet. Phenylalanine is an essential amino acid found in meat, fish, eggs, cheese, and milk. Phenylalanine is used to make many proteins, but notably, it is crucial to make the molecules tyrosine, epinephrine, norepinephrine, and dopamine. These all play a significant role in neurochemical and hormonal communication. DL-phenylalanine may reduce occasional pain by decreasing the enzyme that breaks down endorphins. P Endorphins are "the feel-good" neurochemicals that the brain naturally produces.
Alpha lipoic acid: Alpha lipoic acid is an important nutrient for mitochondrial functioning (mitochondria are the "powerhouse" organelles inside of cells that produce ATP—the functional energy used by cells) that has antioxidant properties. It helps improve numbness and occasional pain by supporting nerve health. Alpha-lipoic acid is an antioxidant that may help maintain blood sugar levels already in normal range, improve nerve function, and relieve uncomfortable symptoms in the legs and arms. Q*
CurcuWIN® Turmeric: Turmeric is a spice common in Indian cuisine and traditionally used in Ayurvedic medicine for its health benefits. It contains natural chemical compounds called curcuminoids, one of which is curcumin. This powerful antioxidant compound has been shown to support joint, heart, brain, and cellular wellness, by promoting a healthy inflammatory response.* L*
Many forms of turmeric are poorly absorbed in the body or quickly metabolized. For that reason, our formula contains CurcuWIN®, a water-soluble curcumin extract. CurcuWIN® uses a proprietary delivery system that has been clinically shown to increase the absorption and retention of curcuminoids in the body.* M*
References:
*These statements have not been evaluated by the Food and Drug Administration (FDA). This product is not intended to diagnose, treat, cure, or prevent any disease.
Vitamin B6 (as pyridoxal-5´-phosphate), Folate (as BioFolate®)(L-5-methyltetrahydrofolate calcium), Vitamin B12 (as methylcobalamin), DL-Phenylalanine, Alpha Lipoic Acid, CurcuWIN® Curcumin Rhizome Extract (Curcuma longa)
Additional Info
Suggested Use: As a dietary supplement, take two (2) caplets daily, preferably with a meal, or as directed by a healthcare provider.
Caution: Consult a healthcare professional if you are pregnant/nursing, taking any medication or have a medical condition.
Store in a cool, dry place. Keep out of reach of children. Do not use if seal is broken.
CurcuWIN® is a registered trademark of OmniActive Health Technologies Ltd.
For detailed clinical studies visit: www.omniactives.com/curcuwin
Reviews
Customer Reviews
Write a Review
Ask a Question
11/27/2023
Anonymous

United States
Max Relief AM Formula
Right away I had to step down from 2 tabs to 1 as I was experiencing bad headaches initially. After about 6 weeks, I re-introduced the 2nd tab, but in the evening. So, I've been taking 1 with breakfast and 1 with dinner for 5 or 6 months now. I can attest that it resolved the neuropathy in my feet by about 90-95%, after a couple of months.
11/06/2023
Anonymous

United States
I broke out with a rash and unbearable itching. I don't know if something in the ingredient. Had to take MethyIprednisolone and Benadryl. I stop taking the supplements. Disappointed because I spent so much money on it.
10/21/2023
Anonymous

United States
Vista medicine
Very pleased! Thank you!
08/04/2023
Anonymous

United States
Seems to be helping!! YAY!!
07/17/2023
Anonymous

United States
Working well
It seems that he is beginning to feel a little bit in his feet. That is a big step for him.