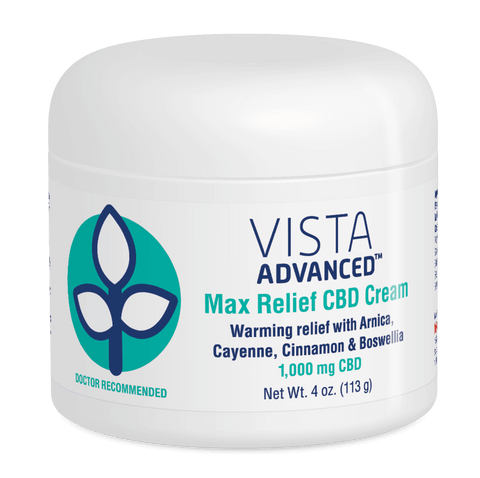 VISTA® Advanced Max Relief CBD Cream (4 oz)
SKU:

68878
VISTA® Advanced Max Relief CBD Cream provides active recovery for an active lifestyle. Infused with full spectrum CBD, it absorbs quickly with an instant, invigorating rush of icy coolness followed by a soothing warming sensation that delivers long lasting benefits for muscles and joints.
Instant icy cool-hot effect
Infused with 1,000 mg of pure full-spectrum CBD
Deep Penetrating, Non-greasy, Alcohol free formula
90-Day Money Back Guarantee
VISTA® Advanced Max Relief CBD Cream
VISTA® Advanced Max Relief formula is a non-greasy, easily absorbed cream that quickly delivers natural, soothing ingredients right when and where you need it most. Menthol and Camphor provides an exhilarating icy blast, while the gentle warmth of Cayenne, Cinnamon, and Boswellia melts away discomfort. Aloe moisturizes and protects dry skin.
Benefits of an Active Lifestyle
The key to maintaining health over a lifetime is no secret—it is exercise! Finding the time to work out regularly is not always easy, but when you do, your body benefits greatly. A major motivational factor for why people exercise is to improve one's appearance, however, the returns on living an active lifestyle extend well beyond this.
The psychological advantages of physical activity include enhancing cognitive processes, protecting against neurodegenerative diseases, lowering depression, reducing stress, and improving sleep quality.1 Exercise imparts these effects (in part) by releasing the brain's natural feel-good and pain-relieving neurochemicals (e.g., dopamine, serotonin, and endocannabinoids). Even a single bout of physical activity can lift mood and improve short-term performance on attention and perception tasks.1 The physiological benefits of exercise are just as plentiful and include improved cardiovascular, circulatory, and pulmonary functioning. Regular, rigorous activity also allows people to build muscle mass, increase bone density, and manage their weight.
Second Day Soreness
The take-home message is, exercising today can lead to rewards tomorrow. Unfortunately, the next few days following a workout can leave your muscles feeling sore and fatigued. First-timers are especially likely to feel discomfort along with anyone trying novel exercises. Even seasoned athletes and gym junkies may experience soreness after increasing the intensity of their workout. No one is completely immune to a little post-workout pain.
What causes Aching Muscles?
Mild soreness is a natural result of rigorous physical activity. When we activate our muscles during intense cardio or strength training exercises, some muscle fibers inevitably tear. Although this is a form of damage, these microtears are nothing to worry about. The body not only repairs the injured fibers with the help of satellite cells, the fusion of the satellite cells to themselves and the muscle fibers often result in hypertrophy—i.e., muscle growth. Skeletal muscle is the most adaptable tissue in the human body, but it does need nutrients and time to recover. Slow recovery, however, can prevent you from keeping a regular workout schedule.
The Daily Grind
Workouts are not the only source of minor pains. Everyday life can sometimes leave you feeling a little achy, especially if you spend long hours standing, walking, lifting heavy objects, or even sitting for extended periods. After a long day, muscles and joints can feel sore, stiff, and otherwise uncomfortable.
For everyday aches, at-home treatments and some much-needed rest can go a long way toward providing relief. Some pains, however, especially ones that last a long time, may indicate that there is an underlying condition. In such a case, you may need to see your doctor for a diagnosis. They can create a long-term treatment plan to relieve your aches and other associated symptoms. Importantly, ignoring pain will not make it go away.
Age, Exercise, and Pain Management
Exercise is key to physical and mental health—especially as we age. Research has found that physical activity in older individuals is associated with better cognitive and executive functioning, as well as episodic memory.2 It is also critical for maintaining the health of various organ systems and reducing the likelihood of diabetes and cardiovascular diseases.
With age, we become more prone to conditions, such as decreased bone density (i.e., osteoporosis), arthritic joints, and decreased muscle mass. The good news is that regular cardio and strength training can lead to improved bone density, muscle growth, and can even help joints. While this sounds great, if you are already feeling aches from daily activities, then you may postpone or avoid the physical activity that your body needs to stay healthy.
VISTA® Advanced Max Relief CBD Cream
VISTA® Advanced Max Relief CBD Cream provides active recovery for an active lifestyle. Infused with full spectrum CBD, it absorbs quickly and leaves you feeling more comfortable and revitalized. You will know it's working instantly as the invigorating rush of icy coolness gives way to a soothing warming sensation. This muscle and joint cream are formulated with menthol, aloe, arnica, Boswellia, camphor, cinnamon, MSM and cayenne to provide long lasting benefits.
Instant Icy Cool-Hot Effect
Non-greasy
Deep Penetrating
1,000 mg of full-spectrum CBD Infused
Paraben-free, Cruelty-free, Alcohol-Free
Full Spectrum CBD: Cannabis has been used for medicinal purposes since ancient times. Modern science allows us to study the effects of Cannabidiol (CBD) and develop safe products to support health and recovery. CBD is an exciting and promising ingredient, and its popularity has grown exponentially over the past few years. Importantly, not all CBD products are created equal. They tend to vary in their purity and potency. VISTA® Advanced Max Relief CBD cream is infused with 1000 mg of full-spectrum CBD, meaning it has a complete range of all-natural plant extracts derived from the hemp plant, including essential oils, terpenes, and cannabinoids, such as cannabinol. Full-spectrum CBD accordingly, is less processed than CBD isolates.
Cannabinoids affect us mentally and physically because our bodies produce very similar molecules naturally via the endocannabinoid system. This system releases molecules that can attach to cannabinoid receptors found in the brain, organs, connective tissues, glands, and immune cells.3 The effect of these molecules depends on the specific endocannabinoid released and the location and type of receptor that it latches on to. Endocannabinoids play a role in numerous processes, including chronic pain, inflammation, immune system response, sleep, mood, nerve function, appetite, digestion, metabolism, and many more.
Reference:
Basso, J. C., & Suzuki, W. A. (2017). The Effects of Acute Exercise on Mood, Cognition, Neurophysiology, and Neurochemical Pathways: A Review. Brain plasticity (Amsterdam, Netherlands), 2(2), 127–152. https://doi.org/10.3233/BPL-160040
Reas, E. T., Laughlin, G. A., Bergstrom, J., Kritz-Silverstein, D., Richard, E. L., Barrett-Connor, E., & McEvoy, L. K. (2019). Lifetime physical activity and late-life cognitive function: the Rancho Bernardo study. Age and ageing, 48(2), 241–246. https://doi.org/10.1093/ageing/afy188
Alger B. E. (2013). Getting high on the endocannabinoid system. Cerebrum: the Dana forum on brain science, 2013, 14
*These statements have not been evaluated by the Food and Drug Administration (FDA). This product is not intended to diagnose, treat, cure, or prevent any disease.
Ingredients: Water (Aqua), Caprylic/Capric Triglyceride, Butyrospermum Parkii (Shea) Butter, Glyceryl Stearate SE, Glycerin, Cetearyl Alcohol, Cocos Nucifera (Coconut) Oil, Menthol, Cinnamomum Camphora (Camphor) Bark Oil, Capsicum Frutescens Fruit Extract, Methylsulfonylmethane, Cannabis Sativa Flower/Leaf/Stem Extract, Cinnamomum Cassia (Cinnamon) Bark Extract, Boswellia Serrata Extract, Heterotheca Inuloides (Arnica) Flower Extract, Aloe Barbadensis Leaf Juice, Inulin, Yogurt Powder, Simmondsia Chinensis (Jojoba) Seed Oil, Olea Europaea (Olive) Fruit Oil, Polyglyceryl-10 Oleate, Xanthan Gum, Bentonite, Pentylene Glycol, Caprylyl Glycol, Limonene, Linalool, Citric Acid.
*CBD content is 1,000 mg per container.
Additional Info
Directions: Gently massage a dime-sized amount onto skin. Use before or after activity for maximum relief.
For external use only. Avoid contact with eyes. Do not use with broken skin. Discontinue use if irritation or discomfort is experienced. Keep out of reach of children. Store in a cool, dry place.
Reviews
Customer Reviews
Write a Review
Ask a Question
10/29/2023
Anonymous

United States
Most Excellent Pain Relief and Inflammation Relief
I have been using this product for a broken foot and associated sprains and swelling. Phenomenal pain relief. Great consistency. Not sticky.
10/01/2023
Janis B.

United States
Great product
This cream works so good I don't have to apply it every night. You can feel your nerves calming down right after you apply it.
09/12/2023
Anonymous

United States
Love the cream
The CBD Cream seems to be working very well in conjunction with a med I'm now taking. I'm not sure which is doing what, but together they have taken my pain away.
08/30/2023
Mark F.

United States
Works wonderfully
Absorbs fast, non greasy and does a great job in muting the pain. It last about 3 to 4 hours. My husband and I love it.
08/14/2023
Anonymous

United States
Immediate Relief
This helps instantly with pain.