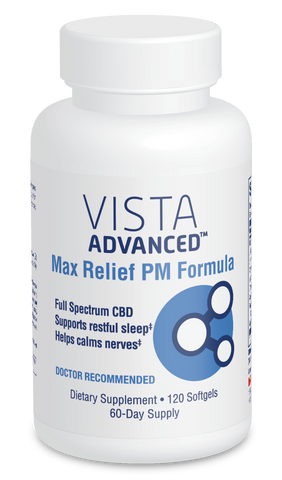 VISTA® Advanced Max Relief PM Formula (120 softgels)
SKU:

68873
VISTA® Advanced Max Relief PM Formula helps to calm your mind and body with the support of full spectrum CBD and Ashwagandha. This exquisite blend of sleep-promoting and stress-easing nutrients allows you to relax your muscles and quiet your nerves so you can wake up feeling more refreshed.*
60-day supply
20 mg of Full Spectrum CBD Grown in the USA to support relaxation*
Ashwagandha and 5-HTP promotes calms nerves and reduce the effects of stress*
Blended with Melatonin, L-Theanine, and Chamomile
90-Day Money Back Guarantee
VISTA® Advanced Max Relief PM Formula
Getting a good night's sleep can be a real struggle. Whether you are working long hours or enticed by auto play to binge watch a series—sleep is often sacrificed. This is unfortunate since a lack of sleep can negatively impact wellness on a variety of fronts. For example, sleep affects the immune system and its ability to fight infections, the regulation of hormones associated with hunger and satiation, the body's ability to repair tissues and DNA damage, blood pressure and cardiovascular health, learning and memory formation, executive functioning (cognitive abilities related to impulse control, planning, and decision making), attention and reaction times, insulin sensitivity—the list goes on, and on.
Sleep, Stress, and Emotional Regulation
Sleep is important for restoring balance and dealing with daily challenges that may arise at work, home, or when interacting with others. Sleep-deprived individuals tend to behave more impulsively and with greater emotional instability—i.e., mood swings. Overall, they tend to be more irritable, short-tempered, and vulnerable to stress. This relationship also works in the opposite direction. That is, stress may result in mental health problems as well as sleep disturbances.5 Stress activates the fight-or-flight system, and cortisol and adrenaline are released into the body. The resulting heightened state of alertness is far from the relaxed state needed to fall asleep easily.
VISTA® Advanced Max Relief PM Formula
VISTA® Advanced Max Relief PM Formula helps to calm your mind and body with the support of full spectrum CBD and Ashwagandha. This exquisite blend of sleep-promoting and stress-easing nutrients, such as Melatonin, 5-HTP, and Chamomile, that allows you to relax your muscles and quiet your nerves so you can wake up feeling more refreshed.
Full Spectrum CBD 20 mg: Cannabis has been used for medicinal purposes since ancient times. Modern science allows us to study the effects of Cannabidiol (CBD) and develop safe products to support health and recovery. CBD is an exciting and promising ingredient, and its popularity has grown exponentially over the past few years. Importantly, not all CBD products are created equal. They tend to vary in their purity and potency.
VISTA® Advanced Max Relief PM Formula utilizes CBD made from alcohol-extracted Hemp flowers from trusted US farm partners. It has been lab-tested for purity with full traceability.R* Full spectrum CBD contains the complete range of natural plant extracts derived from the hemp plant, including essential oils, terpenes, and cannabinoids, such as cannabinol. Full spectrum CBD accordingly, is less processed than CBD isolates.
Cannabinoids affect us mentally and physically because our bodies produce very similar molecules naturally via the endocannabinoid system. This system releases molecules that can attach to cannabinoid receptors found in the brain, organs, connective tissues, glands, and immune cells. The effect of these molecules depends on the specific endocannabinoid released and the location and type of receptor that it latches on to.
Ashwagandha: The ashwagandha is a plant native to India and North Africa that has been used for medicinal purposes for thousands of years. Ashwagandha is a proven adaptogen that has been shown to increase the body's ability to recover from stress while stimulating an overall feeling of balance.*S
Turmeric: Turmeric is a spice common in Indian cuisine and traditionally used in Ayurvedic medicine for its health benefits. It contains natural chemical compounds called curcuminoids, one of which is curcumin. This powerful antioxidant compound has been shown to support joint, heart, brain, and cellular wellness, by promoting a healthy inflammatory response.*L
5-HTP: 5-HTP is used by the human body to make serotonin, an important substance for normal nerve and brain function.T* Serotonin, when produced as an endogenous neurotransmitter by your brain, plays vital role in stabilizing mood and a sense of well-being. Serotonin is a precursor to melatonin—the sleep hormone that helps regulate sleep and our circadian rhythm.
You'll find even more sleep-promoting or stress-easing nutrients in this formula, including Melatonin, L-Theanine, Valerian, Lemon balm and Chamomile.*
References:
National Diabetes Statistics Report: Estimates of Diabetes and its burden in the US. (2020). https://www.cdc.gov/diabetes/pdfs/data/statistics/national-diabetes-statistics-report.pdf
Taffe AT, Bech MW, Clemmensen SLK, Nielsen HT, Larsen DB, Petersen KK (2019) Total sleep deprivation increases pain sensitivity, impairs conditioned pain modulation and facilitates temporal summation of pain in healthy participants. PLoS ONE 14(12): e0225849. https://doi.org/10.1371/journal.pone.​0225849
Bahnasy, W. S., El-Heneedy, Y., El-Seidy, E., Labib, N., & Ibrahim, I. (2018). Sleep disturbances in diabetic peripheral neuropathy patients: a clinical and polysomnographic study. The Egyptian journal of neurology, psychiatry and neurosurgery, 54(1), 23. https://doi.org/10.1186/s41983-018-0024-0
Zelman, Diane C. PhD*; Brandenburg, Nancy A. PhD†; Gore, Mugdha PhD, PharmB‡ Sleep Impairment in Patients With Painful Diabetic Peripheral Neuropathy, The Clinical Journal of Pain: October 2006 - Volume 22 - Issue 8 - p 681-685 doi: 10.1097/01.ajp.0000210910.49923.09
Vandekerckhove, M., & Wang, Y. L. (2017). Emotion, emotion regulation and sleep: An intimate relationship. AIMS neuroscience, 5(1), 1–17. https://doi.org/10.3934/Neuroscience.​2018.1.1
*These statements have not been evaluated by the Food and Drug Administration (FDA). This product is not intended to diagnose, treat, cure, or prevent any disease.
Additional Info
Suggested Use: As a dietary supplement, take two (2) softgels daily, one hour prior to bedtime, or as directed by a healthcare provider.
Warning: May cause drowsiness. Take prior to bedtime or as directed by your healthcare professional. Do not drive or operate heavy machinery while using this product. Ask a healthcare professional before use if you are taking any medication. Not for use by persons under 12 years of age. If pregnant, nursing, using any tranquilizers or sedatives, have an autoimmune condition or depressive disorder, or taking a prescription drug, consult the advice of a doctor prior to use. Do not exceed recommended dose.
Store in a cool, dry place. Keep out of reach of children. Do not use if seal is broken.
Reviews
Customer Reviews
Write a Review
Ask a Question
11/22/2023
Anonymous

United States
Really helps me relax and get a good night sleep.
I had back surgery almost a year ago, but I still have some lingering aches. I also have an 18 month old granddaughter I love spending alot of time with. Being on the floor, bending down to help her walk and taking her in and out of her crib adds to the aches. On those nights when I spend extra time with my little princess, I take one geltab and I sleep through the night and wake refreshed and less aches than when I went to bed. I have issues with ibuprofen, so this doesn't cause me any side effects.
09/04/2023
Cynthia D.

United States
Does a Great Job
This PM Formula helps to keep the pain at bay during the night! Love it!
08/04/2023
Greta P.

United States
Trouble sleeping
Effective first day. No side effects. God bless you finally getting a good nights sleep with out feeling drugged the next day.
07/30/2023
Judith G.

United States
judy
Ok, just not consistant sleep relief. works on mild symptoms.
05/20/2023
Sharon T.

United States
Sleep like a Baby
The PM formula gave me the ability to sleep through the night and not be kept awake by the pain from the neuropathy in my feet. Without the PM, I was lucky to sleep an hour at a time. I'm a happy sleeper.