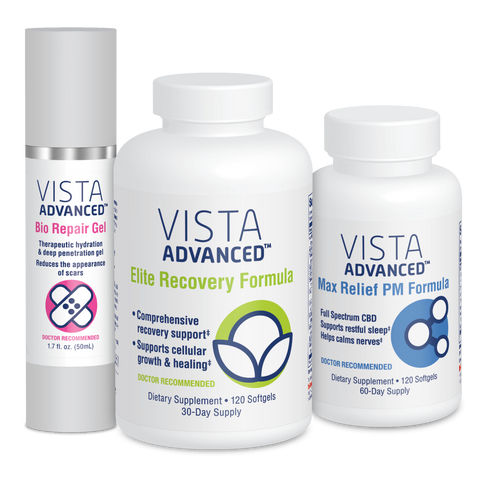 VISTA® Advanced Post-Surgery Kit
SKU:

68885
VISTA® Advanced Post-Surgery Kit is a comprehensive nutritional bundle made to support the body's natural healing processes. Our best blend of nutrients promotes a healthy inflammatory and immune response while supporting cellular growth and healing.*
Elite Recovery Formula supports cellular growth and healing with Magnesium, B vitamins, and more!*
Max Relief PM Formula helps to calm your mind and body with the support of full spectrum CBD and Ashwagandha so you can wake up feeling refreshed.
Bio Repair Gel provides quadruple therapeutic hydration to soften and reduce the appearance of scars.
90-Day Money Back Guarantee
VISTA® Advanced Post-Surgery Kit is a comprehensive nutritional bundle made to support the body's natural healing processes.* VISTA® Advanced Post-Surgery Kit includes: VISTA® Advanced Elite Recovery Formula, VISTA® Advanced Max Relief PM Formula, and VISTA® Advanced Bio Repair Gel.
---
VISTA® Advanced Elite Recovery Formula
VISTA® Advanced Elite Recovery Formula is a post-operative formula made to support the body's natural healing processes and aid in recovery. This comprehensive, all-in-one formulation consists of healthy inflammatory response nutrients, powerful antioxidants, immune support boosters, and cell rejuvenating and restorative vitamins and minerals.*
Omega-3 Fatty Acids: Omega-3 fatty acids from fish oil are famous for their salubrious effects on various tissues and organs in the body. Omega-3 fatty acids are found in few foods apart from fatty fish, such as salmon, and shellfish. If you are not eating seafood weekly, then you are likely missing out on the essential fatty acid that your body needs to function at its best. Omega-3 fatty acids support a healthy inflammatory response and may improve recovery after surgery. Our top preparation includes fish oil in the form of triglycerides, which evidence suggests is more easily absorbed in your body. As a result, you get the same benefits but at a lower dose.*
Turmeric: Turmeric (Curcuma longa) is a spice from the ginger family, that has been used in Indian cuisine and traditionally in Ayurvedic medicine for its health benefits since ancient times. It contains intriguing chemical compounds called curcuminoids, one of which curcumin. Turmeric is a powerful antioxidant shown to support joint, heart, brain, and cellular wellness, by promoting a healthy inflammatory response.* Natural plant-based enzymes Pancreatin, Papain and Bromelain, are commonly used for their digestive and healing properties.* These enzymes are very similar to the body's own enzyme, pepsin, that breaks down proteins in food.
Antioxidants: VISTA® Advanced Elite Recovery Formula aids in cellular health through a combination of potent antioxidants, CoQ10, resveratrol, and Quercetin. When the body is healing, it needs extra energy to support a proper immune response, repair damage, and build new tissue. A limiting factor is CoQ10, which is an important antioxidant used by mitochondria. Mitochondria are commonly called the powerhouse of the cell—and for a good reason! They break down nutrients to produce ATP (adenosine triphosphate), which is the energy used at the cellular level. Without CoQ10, the mitochondria would fail to produce the energy for cells to function at a basic level, much less to the degree needed for an optimal recovery. As an antioxidant, CoQ10 also helps protect cells from oxidative damage.* Resveratrol is a naturally occurring compound known as a polyphenol that is found in the skin of grapes and red wine*. Quercetin is a flavonoid found in a variety of plants, where it has antioxidant and anti-inflammatory effects. It helps our bodies to combat free radical damage.* Free radicals are reactive species of molecules that can cause damage to DNA and the lipid membranes of cells. If left unregulated, free radicals can contribute to oxidative stress, which is hypothesized to be responsible for aging and disease.3
Immune Support Boosters: The immune system plays an integral role during all phases of recovery following surgery. Most notably the immune system protects the vulnerable surgical site from becoming infected, which can lead to sickness, tissue damage, and delayed healing. Both inadequate and excessive immune responses can lead to problems with healing.4 Having a healthy immune system that functions with a balanced response is critical for optimal recovery. Glutamine, one of the most abundant amino acids in the body, supports the health of the cells lining the gastrointestinal tract and is important for immune function.1 Studies have shown that using glutamine-enriched formulas after surgery increased immune cell activity, shortened hospital stays, and improved nutritional status. Zinc is considered an essential nutrient required for numerous processes in your body, including immune health and growth and development. People that have a deficiency in zinc may experience greater vulnerability to pathogens.5 This is because macrophages—white blood cells that detect and engulf bacteria and other harmful organisms—are adversely affected when people do not get adequate levels of zinc.
Cellular Rejuvenation and Healing Matrix: Everyone needs B vitamins to be at their best—especially while recovering. Studies have shown that B vitamins after surgery prevented post-surgical reductions in immune activity. In addition, the Vitamin B complex helps support cell health, red blood cell production, and energy levels. Deficiency in B vitamins has been linked to various negative outcomes, such as mitochondrial dysfunction, immune dysfunction, and inflammatory conditions.6 Magnesium is an essential mineral to the human body needed for a long list of physiological functions. It is required for bone, protein, and fatty acid formation, making new cells, activating B vitamins, relaxing muscles, clotting blood, and forming ATP (the energy produced by mitochondria and required to power cellular activity). These processes are always necessary but are in demand when the body is recovering and rebuilding new tissue. Your body uses vitamin K to produce the proteins that go to work during the clotting process. Blood coagulation not only helps to form a scab over wounds or the site of incision to prevent outward bleeding and infection, but it also helps prevent excessive bleeding inside the body.
References:
Thankam, F.G., Chandra, I.S., Kovilam, A.N. et al. Amplification of Mitochondrial Activity in the Healing Response Following Rotator Cuff Tendon Injury. Sci Rep 8, 17027 (2018). https://doi.org/10.1038/s41598-018-35391-7
Lobo, V., Patil, A., Phatak, A., & Chandra, N. (2010). Free radicals, antioxidants and functional foods: Impact on human health. Pharmacognosy reviews, 4(8), 118–126. https://doi.org/10.4103/0973-7847.70902
MacLeod, A. S., & Mansbridge, J. N. (2016). The Innate Immune System in Acute and Chronic Wounds. Advances in wound care, 5(2), 65–78. https://doi.org/10.1089/wound.2014.0608
Shankar AH, Prasad AS. Zinc and immune function: the biological basis of altered resistance to infection. Am J Clin Nutr. 1998 Aug;68(2 Suppl):447S-463S. doi: 10.1093/ajcn/68.2.447S. PMID: 9701160.
Mikkelsen K, Apostolopoulos V. B Vitamins and Ageing. Subcell Biochem. 2018;90:451-470. doi: 10.1007/978-981-13-2835-0_15. PMID: 30779018.
---
VISTA® Advanced Max Relief PM Formula
VISTA® Advanced Max Relief PM Formula helps to calm your mind and body with the support of full spectrum CBD and Ashwagandha. This exquisite blend of sleep-promoting and stress-easing nutrients, such as Melatonin, 5-HTP, and Chamomile, that allows you to relax your muscles and quiet your nerves so you can wake up feeling more refreshed.
Full Spectrum CBD 20 mg: Cannabis has been used for medicinal purposes since ancient times. Modern science allows us to study the effects of Cannabidiol (CBD) and develop safe products to support health and recovery. CBD is an exciting and promising ingredient, and its popularity has grown exponentially over the past few years. Importantly, not all CBD products are created equal. They tend to vary in their purity and potency. VISTA® Advanced Max Relief PM Formula utilizes CBD made from alcohol-extracted Hemp flowers from trusted US farm partners. It has been lab-tested for purity with full traceability.R* Full spectrum CBD contains the complete range of natural plant extracts derived from the hemp plant, including essential oils, terpenes, and cannabinoids, such as cannabinol. Full spectrum CBD accordingly, is less processed than CBD isolates. Cannabinoids affect us mentally and physically because our bodies produce very similar molecules naturally via the endocannabinoid system. This system releases molecules that can attach to cannabinoid receptors found in the brain, organs, connective tissues, glands, and immune cells. The effect of these molecules depends on the specific endocannabinoid released and the location and type of receptor that it latches on to.
Ashwagandha: The ashwagandha is a plant native to India and North Africa that has been used for medicinal purposes for thousands of years. Ashwagandha is a proven adaptogen that has been shown to increase the body's ability to recover from stress while stimulating an overall feeling of balance.S*
Turmeric: Turmeric is a spice common in Indian cuisine and traditionally used in Ayurvedic medicine for its health benefits. It contains natural chemical compounds called curcuminoids, one of which is curcumin. This powerful antioxidant compound has been shown to support joint, heart, brain, and cellular wellness, by promoting a healthy inflammatory response.L*
5-HTP: 5-HTP is used by the human body to make serotonin, an important substance for normal nerve and brain function.T* Serotonin, when produced as an endogenous neurotransmitter by your brain, plays vital role in stabilizing mood and a sense of well-being. Serotonin is a precursor to melatonin—the sleep hormone that helps regulate sleep and our circadian rhythm.
You'll find even more sleep-promoting or stress-easing nutrients in this formula, including Melatonin, L-Theanine, Valerian, Lemon balm and Chamomile.*
References:
National Diabetes Statistics Report: Estimates of Diabetes and its burden in the US. (2020). https://www.cdc.gov/diabetes/pdfs/data/statistics/national-diabetes-statistics-report.pdf
Taffe AT, Bech MW, Clemmensen SLK, Nielsen HT, Larsen DB, Petersen KK (2019) Total sleep deprivation increases pain sensitivity, impairs conditioned pain modulation and facilitates temporal summation of pain in healthy participants. PLoS ONE 14(12): e0225849. https://doi.org/10.1371/journal.pone.0225849
Bahnasy, W. S., El-Heneedy, Y., El-Seidy, E., Labib, N., & Ibrahim, I. (2018). Sleep disturbances in diabetic peripheral neuropathy patients: a clinical and polysomnographic study. The Egyptian journal of neurology, psychiatry and neurosurgery, 54(1), 23. https://doi.org/10.1186/s41983-018-0024-0
Zelman, Diane C. PhD*; Brandenburg, Nancy A. PhD†; Gore, Mugdha PhD, PharmB‡ Sleep Impairment in Patients With Painful Diabetic Peripheral Neuropathy, The Clinical Journal of Pain: October 2006 - Volume 22 - Issue 8 - p 681-685 doi: 10.1097/01.ajp.0000210910.49923.09
Vandekerckhove, M., & Wang, Y. L. (2017). Emotion, emotion regulation and sleep: An intimate relationship. AIMS neuroscience, 5(1), 1–17. https://doi.org/10.3934/Neuroscience.2018.1.1
---
VISTA® Advanced Bio Repair Gel
VISTA® Advanced Bio Repair Gel penetrates deeply to promote a healthy healing response. Our unique quadruple action formula combines Allantoin, Collaxyl, Panthenol, and Silicone to hydrate, heal and soothe skin while reducing the appearance of scars resulting from surgical incisions, acne, burns, and cuts. This dynamic blend helps to soften and improve scar texture for an overall healthier appearance. It may also improve the appearance of stretch marks.
Panthenol: (provitamin B5) is the perfect addition to Bio Repair Gel because of its ability to aid in tissue repair and increase cell regeneration. Panthenol is also an excellent, humectant that attracts moisture and then penetrates it deeply boost hydration. Panthenol is also known as 'the beautifier' vitamin since it improves the look and feel of skin.
Collaxyl®: a trademarked ingredient from France, has demonstrated effect on skin repair. At the dermal level, it promotes collagen I and III expression. This ingredient promotes wound healing and reduces the formation of scars.
Allantoin: is a humectant and gentle moisturizer that soothes and conditions skin. Humectants attract water from deep within the dermis of the skin and the air and like a magnet pulls these molecules into the epidermis (upper level of skin) where it is needed the most. Allantoin is a valuable healing agent which stimulates healthy tissue formation and skin softening action.
Silicone Blend: provides an invisible layer of protection on the surface of the skin which may allow scars to heal more rapidly. It leaves the skin with a wonderfully smooth, silky feel.
References:
Eri Shirakami, Sho Yamakawa, Kenji Hayashida. Strategies to prevent hypertrophic scar formation: a review of therapeutic interventions based on molecular evidence. Burns & Trauma, 2020; 8 (1) DOI: 10.1093/burnst/tkz003
Bayat, A., McGrouther, D. A., & Ferguson, M. W. (2003). Skin scarring. BMJ (Clinical research ed.), 326(7380), 88–92. https://doi.org/10.1136/bmj.326.7380.88
Ngaage M, Agius M. The Psychology of Scars: A Mini-Review. Psychiatr Danub. 2018 Nov;30(Suppl 7):633-638. PMID: 30439862
Akoh CC, Orlow SJ. A Review of Vitamin D and Scarring: The Potential for New Therapeutics. J Drugs Dermatol. 2020 Jul 1;19(7):742-745. doi: 10.36849/JDD.2020.4986. PMID: 32721140.
*These statements have not been evaluated by the FDA. This product is not intended to diagnose, treat, cure, or prevent any disease.
Elite Recovery Formula
---
Max Relief PM Formula
---
Bio Repair Gel
Ingredients: Aqua, Dimethicone, Panthenol, Hexapeptide-9 (Collaxyl™), Allantoin, Rosa Rubiginosa (Rosehip) Seed Oil, Carbomer, Triethanolamine, Phenoxyethanol, Potassium Sorbate.
Collaxyl™ is a trademark of Vincience S.A.
Additional Info
Elite Recovery Formula
Suggested Use: Take 4 softgels daily with a meal, or as directed by a healthcare professional. For best results, take two in the morning and two in the evening with meals.
Caution: Consult a healthcare professional if you are pregnant/nursing, taking any medication or have a medical condition.
Store in a cool, dry place. Keep out of reach of children. Do not use if seal is broken.
---
Max Relief PM Formula
Suggested Use: As a dietary supplement, take two (2) softgels daily, one hour prior to bedtime, or as directed by a healthcare provider.
Warning: May cause drowsiness. Take prior to bedtime or as directed by your healthcare professional. Do not drive or operate heavy machinery while using this product. Ask a healthcare professional before use if you are taking any medication. Not for use by persons under 12 years of age. If pregnant, nursing, using any tranquilizers or sedatives, have an autoimmune condition or depressive disorder, or taking a prescription drug, consult the advice of a doctor prior to use. Do not exceed recommended dose.
Store in a cool, dry place. Keep out of reach of children. Do not use if seal is broken.
---
Bio Repair Gel
Directions: Gently massage into scar until absorbed once or twice daily for 8 weeks on new scars, and once daily for 3-6 months on existing scars.
For external use only. Do not apply to open wounds. Avoid contact with eyes. Keep out of reach of children. Store in a cool, dry place.