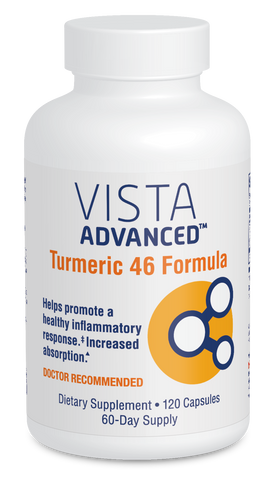 VISTA® Advanced Turmeric 46 Formula (120 capsules)
SKU:

68868
VISTA® Advanced Turmeric 46 Formula contains Curcuwin®, which has been clinically proven to absorb 46X more effectively than standard curcumin extract. This increased absorption makes the curcuminoids more bioavailable and longer lasting for enhanced health benefits.*
60-day supply
Superior bioavailability for even greater absorption and enhanced health benefits.
Derived from turmeric, curcumin promotes a healthy inflammatory response.
Supports joint, heart, brain, and cellular wellness.*
90-Day Money Back Guarantee
VISTA® Advanced Turmeric 46 Formula
Turmeric is a spice common in Indian cuisine and traditionally used in Ayurvedic medicine for its health benefits. It contains natural chemical compounds called curcuminoids, one of which is curcumin. This powerful antioxidant compound has been shown to support joint, heart, brain, and cellular wellness, by promoting a healthy inflammatory response.*
What is Inflammation?
Inflammation is a natural and defensive reaction the body has to an injury or infection. Depending on the source and location, an inflammatory response may be characterized by redness, swelling, itchiness, stinging, heat, and of course, pain. While short-term (acute) inflammation is normal, long-term (chronic) inflammation is not. Persistent inflammation that lasts for weeks, months, or longer is a signal of underlying damage or distress.
Chronic inflammation may even play a role in the development of several other seemingly disparate conditions, such as autoimmune diseases (including rheumatoid arthritis), cardiovascular diseases (e.g., high blood pressure), gastrointestinal disorders (e.g., inflammatory bowel disease), lung diseases (e.g., asthma), metabolic diseases (e.g., Type 2 diabetes), and some types of cancer (e.g., colon cancer).1
What Causes Chronic Inflammation?
Sources of chronic inflammation are plentiful, and may include environmental contaminants (e.g., toxic chemicals, air pollution, and radiation), lifestyle factors (e.g., smoking, alcohol abuse, improper dietary habits, lack of sleep), allergens, imbalances in the gut microbiome, psychological stress, long-term infections or illness, and sustained injuries.1
Joint Health, Arthritis, and Inflammation
Arthritis is a general term used to refer to the inflammation or swelling of a joint. Indeed, there are over 100 different conditions that fall under the umbrella term "arthritis". The most common form is osteoarthritis, which occurs when the cartilage covering the ends of bones becomes damaged and worn-out. The bones encapsulated within the joint grind pass one another resulting in friction and further damage. "Inflammatory arthritis" describes forms that result from the immune system mistakenly attacking the joints. Common examples include rheumatoid arthritis, psoriatic arthritis, and ankylosing spondylitis.4 Approximately 54 million US adults have been diagnosed with some form of arthritis3, and an estimated additional 27 million maybe undiagnosed.2
The severity of the arthritic symptoms varies, ranging from mild to debilitating. Aggravated joints may become swollen, tender, stiff, and painful making movement difficult. Critically, arthritis is a signal that your body is in an inflammatory state.
Lifestyle and Inflammation
Smoking is a leading cause of pulmonary and cardiovascular disease, certain cancers. The chemical compounds released into the body from cigarettes smoke harms nearly every system in the body and inhibits the body's ability repair DNA and tissue damage. Smoking causes the formation of free radicals, leads to cell death, and, unsurprisingly, is a major contributor to chronic inflammation.
Getting a good night's sleep is paramount to good health. Unfortunately, 1 out 3 US adults get less than the recommended 8 hours of nightly sleep.6 While sleeping, our bodies are busy repairing damage and reducing inflammation caused by daily stressors. According to a meta-analysis covering 72 studies on sleep disturbances, evidence suggests that a lack of sleep is associated with inflammatory disease risk as well as all-cause mortality.5
Diet can significantly impact overall health, including levels of inflammation. It is no secret that many people struggle to eat a nutritionally balanced diet rich in colorful vegetables, lean proteins, and healthy fats. Easy access to an endless supply of carb-rich, dopamine-spiking comfort foods ensures that most people give into temptation. Accordingly, the obesity rate in America has nearly tripled in the past 50 years, to the point where approximately 43% of adults today are obese.7 Many popular foods are not only nutritional bankrupt, but they can promote inflammation. Sugar, refined grains, alcohol, fried and processed foods (which may contain trans-fat) can increase inflammation and may further alter gut microbiota—yet another risk factor for inflammation.
Reducing Inflammation
People are often unaware of whether they are experiencing chronic inflammation. Even though uncontrolled inflammation carries several health risks to joints, internal organs, and various parts of the body—it can take time before problems arise. Just like with many diseases—reducing inflammation involves getting adequate sleep, drinking less alcohol and sugary sodas, not smoking, exercising more, and eating a variety of vegetables that are rich in antioxidants and anti-inflammatory polyphenols.
Some factors that contribute to inflammation cannot be controlled easily, if at all (e.g., air pollution), while other factors, such as diet can be modified. Even so, we often stumble and stray from ideal eating behaviors. As a result, taking a supplement can people to meet their needs to maintain a healthy lifestyle.
Turmeric
Turmeric (Curcuma longa) is an ancient spice that is part of the ginger family and is easily distinguished by its rich yellow hue. It has been used for thousands of years in Ayurvedic medicine and traditional Indian cuisine lending its signature color and earthy (and slightly peppery) flavor to many dishes and even drinks, such as curry and golden milk.
Turmeric has garnered significant attention not just from culinary aficionados but also medical and scientific researchers who are interested in its unique properties. Turmeric contains chemical compounds called curcuminoids, one of which is called curcumin. Curcumin is a polyphenol which may support wellness through its antioxidant and healthy inflammatory response properties. Investigators have extensively studies curcumin to determine the impact it has on various organs and health conditions, including those associated with oxidative stress and inflammation.8 While curcumin may support joint, heart, brain, and cellular wellness by promoting a healthy inflammatory response, it is not effective on its own. Critically, curcumin has exceedingly poor absorption rates and limited bioavailability. Once ingested, curcumin is rapidly metabolized and elimination along with any potential health benefits.8 Fortunately, researchers have analyzed and developed methods to improve the bioavailability of curcumin.
VISTA® Advanced Turmeric 46 Formula
Growing scientific interest in, as well as public excitement over, curcumin has led to the development of our most innovative, and high-quality Turmeric supplement yet. VISTA® Advanced Turmeric 46 Formula contains Curcuwin®, a unique form of curcumin that uses a proprietary process clinically proven to absorb 46X more effectively than standard curcumin extract. This increased absorption makes the curcuminoids more bioavailable and longer lasting for enhanced health benefits.*
Superior Bioavailability: Many forms of turmeric are poorly absorbed in the body or quickly metabolized. For that reason, VISTA® Turmeric 46 Formula contains Curcuwin®, a water soluble curcumin extract. Curcuwin® uses a proprietary delivery system that has been clinically shown to increase the absorption and retention of curcuminoids in the body.*M
References:
U.S. Department of Health and Human Services. (Last Reviewed April, 2021). Inflammation. National Institute of Environmental Health Sciences. https://www.niehs.nih.gov/health/topics/conditions/inflammation/index.cfm#footnote1.
Jafarzadeh SR, Felson DT. Updated Estimates Suggest a Much Higher Prevalence of Arthritis in United States Adults Than Previous Ones. Arthritis Rheumatol. 2018 Feb;70(2):185-192. doi: 10.1002/art.40355. Epub 2018 Jan 3. PMID: 29178176; PMCID: PMC5788727.
Centers for Disease Control and Prevention. (2018). Arthritis. U.S. Department of Health and Human Services. https://www.cdc.gov/arthritis/data_statistics/national-statistics.html
"What Is Arthritis?" Arthritis Foundation, http://www.arthritis.org/health-wellness/about-arthritis/understanding-arthritis/what-is-arthritis. Accessed 28 May 2021.
Irwin, M. R., Olmstead, R., & Carroll, J. E. (2016). Sleep Disturbance, Sleep Duration, and Inflammation: A Systematic Review and Meta-Analysis of Cohort Studies and Experimental Sleep Deprivation. Biological psychiatry, 80(1), 40–52. https://doi.org/10.1016/j.biopsych.2015.05.014
Center for Disease Control and Prevention (2016). 1 in 3 adults don't get enough sleep. https://www.cdc.gov/media/releases/2016/p0215-enough-sleep.html
Hales, C.M., Carroll, M.D., Fryar, C.D., & Ogden, C.L. (2020). Prevalence of Obesity and Severe Obesity Among Adults: United States, 2017–2018. Center for Disease Control and Prevention. Retrieved from: https://www.cdc.gov/nchs/products/databriefs/db360.htm
Hewlings, S. J., & Kalman, D. S. (2017). Curcumin: A Review of Its Effects on Human Health. Foods (Basel, Switzerland), 6(10), 92. https://doi.org/10.3390/foods6100092
*These statements have not been evaluated by the Food and Drug Administration (FDA). This product is not intended to diagnose, treat, cure, or prevent any disease.
Additional Info
Suggested Use: As a dietary supplement, take one (1) capsule twice daily, once in the morning and once in the evening, preferably with meals, or as directed by a healthcare provider.
Caution: Consult a healthcare professional if you are pregnant/nursing, taking any medication or have a medical condition.
Store in a cool, dry place. Keep out of reach of children. Do not use if seal is broken.
Reviews
Customer Reviews
Write a Review
Ask a Question
11/27/2023
Anonymous

United States
Tumeric and Joint Collagen
Ever since I started taking Vista Advanced Tumeric and their Joint Collagen Compound my entire body feels terrific. I used to always have pretty bad aches and pains from being so active and these are the first supplements that have actually ever worked. I am amazed at the difference and highly recommend. I will never be without.
09/21/2023
Mary S.

United States
So far so good!
I have had a lot less arthritis pain but also had cortisone injections. When I finish this bottle I'll know for sure how effective it is. If pain increases, I'll buy more and give a raving review, if warranted.
05/15/2023
Miriam P.

United States
Great Supplement!
I haven't even finished my first bottle and I can already see the difference! I'm taking it to help with my eczema and I have noticed less flakiness, itching, and rough skin. I will definitely continue using this product.
01/17/2023
Anonymous

United States
love this product
this has been doing great and will recommend this to anyone
12/11/2022
linda r.

United States
Great Product
Taken as directed by my doctor they work well to reduce inflammation.