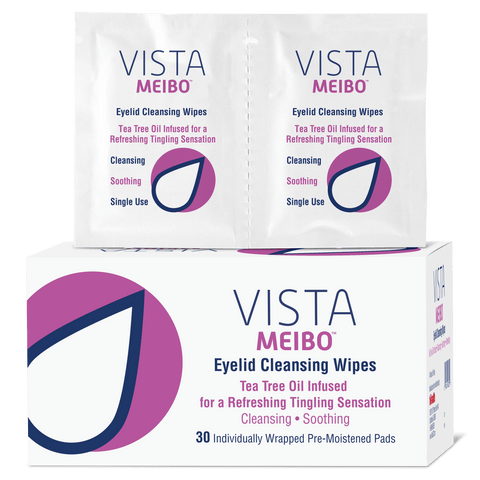 VISTA® Meibo Eyelid Cleansing Wipes (30 pack)
SKU:

68836
Designed for quick and effective cleansing of the eyelids and eyelid margins.
Tea Tree Oil, an all-natural essential oil is ideal to treat bacterial, parasitic and fungal skin infections
Tea Tree Oil also soothes itchy, red and irritated eyelids
Glycerin & Panthenol moisturize and revitalize your skin
90-Day Money Back Guarantee
VISTA® Meibo Eyelid Cleansing Wipes
Most people wash their faces daily to keep their skin looking and feeling its best. Almost nobody, however, thinks about eyelid hygiene. This sorely neglected area deserves some much-needed love—particularly if you are one of the many millions of Americans suffering from dry eye syndrome, blepharitis, Demodex (mites), or other conditions of the eye. Giving your lids a little TLC can go a long way to maintaining healthy eyes.
The Eyelid
The eyelid is actually a highly complex structure that serves several vital functions for maintaining optimal visual acuity. Your lids protect the fragile corneal lens from scratches by blocking debris, and they keep your eyes feeling hydrated by smoothly distributing tears and oils across the ocular surface. Right near the lash line, the lids contain the meibomian glands, which are responsible for producing an oily substance that gets incorporated into the tear film. The oil helps prevent your tears from evaporating too quickly—which is crucial since tears deliver nutrients, are antimicrobial, and keep your eyes moisturized. When the meibomian glands are not functioning properly, the eyes become dry, more prone to bacterial infections, sore, and crusty.
Eyelid Hygiene and Health
Our intricate and sensitive eyelids are prone to several problematic conditions, including meibomian gland dysfunction, dry eye syndrome, blepharitis, Demodex, and allergic and dermatological issues. Treating these conditions requires specific care that typically includes cleansing the eyelid. Individuals who wear contact lenses or those who have (or will be) undergoing eye surgery can also benefit by maintaining proper eyelid hygiene.
Sensitive eyelids are easily irritated by excess oil, debris, pollen, dry scaly skin, and other contaminants. In addition, the meibomian glands can become blocked, which can lead to dry eye syndrome and an inflammatory condition called blepharitis. Individuals with blepharitis may have sore, red, or swollen eyelids, and they might also develop flakes or oily particles that encrust the eyelashes. Individuals with oily skin, dandruff, or rosacea are particularly prone to this condition.
Creepy Critters
Disturbingly, plenty of critters and creepy crawlies call your eyelids home. These include bacteria, viruses, and fungi, as well as the nightmare fuel known as Demodex. Demodex is an infestation of the eyelids— tiny parasitic mites inhabit and lay eggs in and around the eyelash follicles. These eight-legged pests are most active at night and munch on skin cells and oily secretions (sebum) using pin-like mouthparts. Clinical symptoms include burning, itchiness sensitivity, rough, scaly skin, and flaking around the lashes. Demodex is more common in men than women and individuals with oily skin, dandruff, or rosacea.
Pre and Post Op Eyelid Care
Proper eyelid hygiene is vital for patients undergoing Lasik, cataracts, or glaucoma surgery. Your doctor may require you to use an antiseptic cleanser both before and after eye surgery to minimize the risk of infection or inflammation caused by bacteria and viruses.
VISTA® Meibo Eyelid Cleansing Wipes (30 pack)
VISTA® Meibo Eyelid Cleansing Wipes were scientifically developed by leading eye doctors to be a simple, effective way to cleanse and maintain the health of the eyelid. The wipes conveniently remove excess oil, skin, and scaley build-up without irritating the sensitive skin around the eye. They were designed to easily reach the margins of your eye to prevent contaminants from blocking tear ducts and meibomian glands.
VISTA® Meibo Eyelid Cleansing Wipes contain Tea Tree oil—an all-natural, essential oil that has been used in Australia for nearly a century. It is renowned for its antiseptic properties making it an ideal ingredient to treat bacterial, parasitic, and fungal skin infections. It promotes healing by increasing the activity of white blood cells—the part of the immune system that attacks foreign microbes that can do harm to your eyes. Tea Tree oil is also an anti-inflammatory and helps to soothe itchy, red, and irritated eyelids.
A natural remedy for treating bacterial and fungal skin conditions, preventing infections and promotes healing
Contains terpinen-4-ol that has been shown to kill certain bacteria, viruses, and fungi
Helps increase activity of white blood cells to help fight against germs and foreign invaders
Reduces eyelid irritation with its antibacterial properties
Glycerin & Panthenol:
Moisturizes and revitalizes your skin
Polysorbate 20, Polysorbate 80:
Are versatile surfactants are water-soluble products that are used as emulsifiers, solubilizers, wetting agents, and dispersants throughout the cosmetics and personal care industries
Ingredients
Water, Glycerin, Polysorbate 20, Polysorbate 80, Panthenol, Hypericum Perforatum Oil, Hippophae Rhamnoides Oil, Phenoxyethanol, Melaleuca Alternifolia Leaf Oil (terpinen-4-ol), Chamomilla Recutita Flower Extract, Sodium Hyaluronate Triethanolamine, Lactic Acid, Caprylyl Glycol
Additional Info
Uses
Gently but effectively removes oil, debris, pollen, dry scaly skin, and other contaminants that can cause irritation
Warnings
For external use only
Some oil ingredients may cause an allergic reaction
When using this product
Do not touch the eye surface
Stop use and ask a doctor if
You experience dermatitis or skin irritation
Keep out of reach of children
If swallowed get medical help or contact a Poison Control Center
Directions
Wash hands and remove contact lenses prior to use
Open packet and unfold pre-moistened wipe. Wrap wipe over finger
Close the eye and gently wipe the eyelid using side-to-side strokes. You may experience a slight tingling (menthol-like) sensation due to Tea Tree Oils natural antibacterial properties
Repeat for the other eyelid
Rinsing is not required
Other information
Protect from direct sunlight heat and humidity
Questions
In the USA call 1-866-860-5269
Visit www.VistaOTC.com
Reviews
Customer Reviews
Write a Review
Ask a Question
11/24/2023
Anonymous

United States
Soothing
Cleansing wipes are a very good size, very soothing solution, no stinging at all. The best of any eye wipes I've used, I do recommend, they are worth the price.
05/20/2023
Brian P.

United States
Great eye wipes
Loved them- the tea tree in them was nice and tingly did the trick for my eyes- little pricey but you get what you pay for
04/27/2023
Anonymous

United States
01/14/2023
Anonymous

United States
Wipes
Ok except I have gotten several dry wipes.
08/05/2022
Anonymous

United States
Does more than it's suppose to do!
Good! My doctor actually told me to use them all over my face and neck not just for my eye area. They have transformed my skin. Skin tags are disappearing and lump / bumps that developed and made my skin uneven have disappeared as well. This is an amazing product!