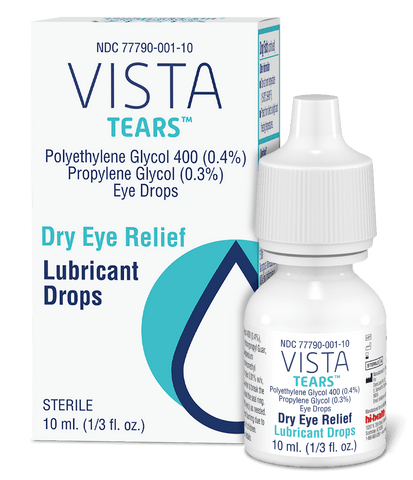 VISTA® Tears (10 ml)
SKU:

68832
VISTA® Tears are designed to provide relief for dry, burning, irritated eyes.
Polyethylene Glycol combined with Propylene Glycol and Hydroxypropyl Guar have been shown to reduce corneal and conjunctival staining, improve TBUT, attract moisture into the eyes and decrease tear osmolarlity.
Provides soothing relief from wearing contact lenses and environmental factors such as wind, smoke, sun, dry air, air conditioning and prolonged use of computers.
90-Day Money Back Guarantee
VISTA® Tears
Little compares to the discomfort and irritation associated with dry eyes. When your eyes feel inflamed, itchy, and tired, getting through the day can seem nearly impossible. Dry eye can not only completely undermine your productivity at work, it can reduce your ability to recharge while relaxing.
If you have or are currently experiencing dry eye, then you are certainly not alone. Roughly 30 to 50% of people experiencing the symptoms of dry eye at some point. For an estimated 16 million Americans1, their condition is persistent and is classified as dry eye disease (DED). Not everyone seeks help for their dry eye symptoms, thus the actual number of people suffering from DED is likely higher. This is problematic since our sensitive eyes rely on tears for adequate moisture, nourishment, and defensive support against microbial invaders (e.g., bacteria, viruses, fungi) and debris. Consequently, dry eyes are often unhealthy eyes.
Various factors can leave our eyes feeling left high and dry—some issues are inherent to the individual while others are due to outside influences.
Dry Eye Causes
Ultimately dry eye is caused by problems associated with tear production. Tears—far from being just drops of water—are a highly complex mixture of an aqueous solution, phospholipids (oils), and mucus. The oily component of tears slows the evaporation of tears and distributes tears evenly across the eye. With every blink, healing tears remove cellular waste and coat the ocular surface protecting delicate eyes from infection and debris.
Some people produce too few tears, while others produce poor-quality tears that lack the lipids essential for stabilizing the tear film. Both issues can occur in isolation or simultaneously. If left untreated, the condition can worsen over time resulting in severe inflammation and physical damage to the eye's surface.
Dry eye disease is exacerbated by the demands and conveniences of modern life. Whether it is for work or leisure, many people spend long hours looking at blue light-emitting electronic screens (e.g., computers, smartphones, tablets, etc). This can lead to dryness and eye strain since fixating on screens causes our blink rate to drop dramatically—from approximately 20 per minute down to 4!
Relatedly, poor sleeping habits—which is often a consequence of long work hours and exposure to blue light—can intensify dry eye. Most people are sleep deprived to some degree, and in addition, roughly 10% of people sleep with their eyes partially open! This condition, known as nocturnal lagophthalmos, exposes eyes to desiccating air overnight. This leaves even well-rested individuals with eyes that feel tired and dry in the morning.
Dry eye can be the result of eating an unbalanced diet (with too few carotenoids and fatty acids) and exposure to dry or polluted air. It is more common among older individuals, people taking certain medications, individuals wearing contact lenses, or those who have undergone eye surgery (e.g., Lasik, glaucoma, or cataracts surgery).
Don't Ignore Dry Eye
Just because dry eye is a widespread condition does not mean it is normal. Eyes require the unique concoction of compounds found in tears to stay hydrated and healthy. When too few tears are produced—or when the tears lack an oily layer and evaporate quickly—the eye enters a state of hyperosmolarity. When this occurs, the ocular surface is exposed, and a cascade of inflammatory events (e.g., the release of pro-inflammatory factors and cytokines) is kickstarted. Without adequate lubrication, the likelihood of mechanical damage to the ocular surface increases significantly. This is analogous to running your windshield wipers without fluid. The friction can cause scratches on the eye especially when the debris is present. This uncomfortable, gritty sensation results in even more blinking, which perpetuates the nasty loop, and consequently, causes cell death. Consequently, dry eye should not be ignored and should be treated properly.
Combating Dry Eye
Combating the vicious cycle of dry eye syndrome requires advanced treatment. Eye drops are a simple solution that can be used to help lubricate irritated and tired eyes directly. Bear in mind, however, that tears are an incredibly sophisticated substance. Most drops are simply a lackluster substitute for the real deal.
VISTA® Tears
Designed by leading eye specialists, VISTA® Tears was scientifically developed to perform the lubricating function as natural tears. Tears are vital to ocular health since they protect eyes from harmful microbial invaders (e.g., bacteria, viruses, fungi), debris, and mechanical friction that causes inflammation and discomfort.
VISTA® Tears contains a unique and balanced mixture of Polyethylene Glycol combined with Propylene Glycol and Hydroxypropyl Guar to perform the dual action of attracting moisture to the eye and locking it in. Tears will last longer, and accordingly, the tear osmolality will decrease. Preventing rapid evaporation (and lower tear osmolarity) is essential for preventing inflammation and cell death.
VISTA® Tears helps to revitalize the lipid layer of the tear film and can be used as needed to provide relief and comfort from environmental factors such as wind, smoke, sun, dry air, air conditioning, and prolonged use of computers. Do not let the burning, irritation, and discomfort due to dryness get in your way.
Polyethylene Glycol combined with Propylene Glycol and Hydroxypropyl Guar have been shown to:
Reduce corneal and conjunctival staining
improve TBUT
Attract moisture into the eyes
Decrease tear osmolarity
Lubricating drop that provides soothing relief from:
Burning, irritation, and discomfort in the eye due to dryness
Discomfort when wearing contact lenses
Relief from discomfort due to environmental factors such as wind, smoke, sun, dry air, air conditioning, and prolonged use of computers

What is Oxychloro Complex?
Stabilized Oxychloro Complex is used in eye drops as a gentle preservative that converts to sodium and chloride ions, oxygen and water on the ocular surface and is well tolerated in comparison to BAK and leaves no preservative residue in the eye.

Reference:
Farrand KF, Fridman M, Stillman IO, Schaumberg DA. Prevalence of Diagnosed Dry Eye Disease in the United States Among Adults Aged 18 Years and Older. Am J Ophthalmol 2017;182:90-8.
*These statements have not been evaluated by the Food and Drug Administration (FDA). This product is not intended to diagnose, treat, cure, or prevent any disease.
Active Ingredients
Purpose
Polyethylene Glycol 400 0.4% w/vLubricant
Propylene Glycol 0.3% w/vLubricant
Inactive ingredients
Hydroxypropyl Guar, Glycerol, Sodium Chloride, Potassium Chloride, Magnesium Chloride, Calcium Chloride, Boric Acid, Sorbitol, Aminomethyl Propanol, Stabilized Oxychloro Complex 0.01% w/v, Purified Water
Additional Info
Uses
For the temporary relief of irritation and burning due to dryness of the eye
Warnings
For external use only
Do not use
If this product changes color or becomes cloudy
If seal is broken or punctured
When using this product
Do not touch tip of bottle to any surface to avoid contamination
Replace cap after each use
Stop use and ask a doctor if
You experience eye pain
Have changes in your vision
Experience irritation or redness for longer than 48 hours
Keep out of reach of children
If swallowed get medical help or contact a Poison Control Center
Directions
Shake well before using
Instill 1 or 2 drops in the affected eye(s) as needed
Close your eyes for 10 seconds to allow for lubrication
Other information
Store at room temperature (15-30°C, 59-86°F)
Protect from direct sunlight and freezing temperatures
Questions
In the USA call 1-866-860-5269
Visit www.VistaOTC.com
Reviews
Customer Reviews
Write a Review
Ask a Question
11/15/2022
Bonnie T.

United States
vista eye drops
Helps with dryness and prescribed for cataract surgery.
09/22/2022
Carol L.

United States
my stuff
I've tried several other eye drops but these are the best I've tried.
08/18/2022
Rheba C.

United States
Thanks
Great , seeing was made very easy, Thanks so much for this.
08/26/2021
Anonymous

United States
Good
Good! I don't have to use it as much as OTC drops.