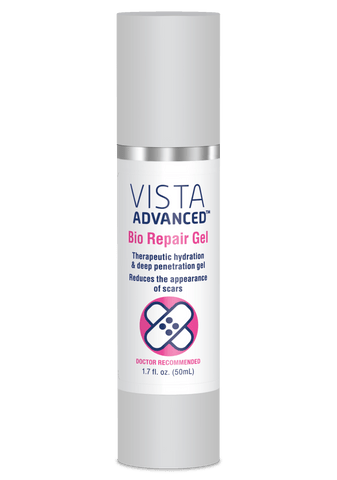 VISTA® Advanced Bio Repair Gel (1.7 oz)
SKU:

68879
VISTA® Advanced Bio Repair Gel combines Allantoin, Collaxyl, Panthenol, and Silicone to effectively hydrate, heal and soothe skin while reducing the appearance of scars resulting from surgical incisions, acne, burns, and cuts. This dynamic blend helps to soften and improve scar texture for a healthier appearance.
Quadruple action formula to promote a healthy healing response
Therapeutic hydration and deep penetration gel soften and reduces the appearance of scars
May help improve stretch marks
90-Day Money Back Guarantee
VISTA® Bio Repair Gel
The body has an incredible ability to heal itself following surgery and or a dermal injury. Not all injuries, however, heal perfectly. Our bodies—for better or worse—were evolutionary optimized for a speedy recovery to prevent infection and prolonged downtime.2 The consequence is that most dermal injuries have to potential to leave a scar. Scarring occurs when the body builds up collagen around a wound to help strengthen the area and prevent it from further damage. Collagen may continue to be produced for weeks as the body repairs itself. Initially, scars tend to be raised or lumpy, but over time some of the collagen breaks down. This results in a smoother, flatter scar. Scars may continue to fade for months or even a couple of years afterward, but eventually, they settle into their final form.
Psychology of Scars
Sometimes surgery—which requires making an incision to treat an underlying issue—is necessary to improve one's condition and quality of life. Even when a full recovery is made, people are sometimes left with a reminder—namely, a scar. Major surgeries that necessitate larger or multiple incisions are more likely to result in scarring, however, depending on the person, sometimes even minor incisions can leave a permanent mark. Scars can also result from accidents, especially those requiring stitches, burns, cuts, and even acne.
Once obtained, scars tend to flatten out and fade with time, but they typically do not go away completely. Depending on the location, size, and even texture, a scar can have a negative psychological impact on the affected person. The immediate change in appearance can leave people feeling insecure about their image resulting in low self-confidence. This is especially true for either large scars or those on the face, which are immediately noticeable to others. While everyone reacts differently, people with scars are more likely to experience depression, anxiety, or shame.1
Types of Scars
Flat scars: This type of scar stays within the boundaries of the original injury and flattens out after it heals. They may appear as a fine line or widespread scars. Widespread scars are would-be fine lines scars that gradually become stretched and widened. They typically occur within 3 weeks after surgery.
Stretch marks: This type of scar occurs when rapid growth takes place, such as during pregnancy, puberty, or when there is significant weight gain. The connective tissue in the middle skin layer (the dermis) cannot keep up and is damaged. These scars are flat and may lighten over time.
Atrophic scars: These tend to be small, flat, and circular. They tend to be indented below the surrounding skin indented, are typically caused by acne or chickenpox.
Scar contractures: These are abnormal scars that generally occur only when a significant area of skin is damaged or lost. The scar formation pulls the edges of the skin together, causing a tight area of skin.
Hypertrophic scars: These are raised scars that remain within the boundaries of the original wound. Hypertrophic scars are the result of abnormal healing, and are often inflamed, and thus itchy, red, and painful. They typically occur after burn injury on the trunk and extremities. These scars never completely flatten out.
Keloid scars: These are raised scars that extend beyond the boundary of the original injury. They are formed when there is an abnormal, overgrowth of scar tissue. Genetics plays a role in determining the likelihood of developing keloids. Even minor injuries, such as an ear-piercing can trigger their formation.
Wound Care
Many factors determine whether you will scar following an injury and the scar's ultimate appearance. Scarring is influenced by wound size, depth, and location, and the cause of the injury. The duration of healing is also predictive. It is estimated that about one-third of wounds developed scars if the healing process takes between 14 and 21 days, while the likelihood of scars jumps to 78% if the wound healing takes longer than 21 days.3
Eating a balanced diet that includes lean protein, healthy fats, nutritionally dense fruits, and vitamin-packed vegetables is also critical for supporting your body's natural healing process. Your body needs ample energy, protein, and the appropriate building blocks to repair and regrow tissue after surgery or an injury. Your body will also benefit from the rich supply of antioxidants and anti-inflammatory agents since they promote a healthy immune and inflammatory response. Be sure to meet your daily requirements for Vitamin D since low levels are associated with an increase in the likelihood of scarring.4
Proper wound care is essential to minimizing, or even preventing, scars. Be sure to follow any instructions provided by your doctor, and always ask before trying a new treatment. To begin with, keeping wounds clean and free from bacterial infections is essential for proper healing. You should clean the area with a gentle cleanser to remove dirt and keep bacterial counts on the skin in check. A clean bandage placed over the wound helps to keep potentially infectious microbes out. Moistening a wound with petroleum jelly can also help it heal. Petroleum jelly is an inert substance that helps to seal in moisture. An advanced topical solution can be used to support the body's natural wound-healing abilities.
VISTA® Bio Repair Gel
VISTA® Bio Repair Gel penetrates deeply to promote a healthy healing response. Our unique quadruple action formula combines Allantoin, Collaxyl, Panthenol, and Silicone to hydrate, heal and soothe skin while reducing the appearance of scars resulting from surgical incisions, acne, burns, and cuts. This dynamic blend helps to soften and improve scar texture for an overall healthier appearance. It may also improve the appearance of stretch marks.
Panthenol: (provitamin B5) is the perfect addition to Bio Repair Gel because of its ability to aid in tissue repair and increase cell regeneration. Panthenol is also an excellent, humectant that attracts moisture and then penetrates it deeply boost hydration. Panthenol is also known as 'the beautifier' vitamin since it improves the look and feel of skin.
Collaxyl®: a trademarked ingredient from France, has demonstrated effect on skin repair. At the dermal level, it promotes collagen I and III expression. This ingredient promotes wound healing and reduces the formation of scars.
Allantoin: is a humectant and gentle moisturizer that soothes and conditions skin. Humectants attract water from deep within the dermis of the skin and the air and like a magnet pulls these molecules into the epidermis (upper level of skin) where it is needed the most. Allantoin is a valuable healing agent which stimulates healthy tissue formation and skin softening action.
Silicone Blend: provides an invisible layer of protection on the surface of the skin which may allow scars to heal more rapidly. It leaves the skin with a wonderfully smooth, silky feel.
References:
Eri Shirakami, Sho Yamakawa, Kenji Hayashida. Strategies to prevent hypertrophic scar formation: a review of therapeutic interventions based on molecular evidence. Burns & Trauma, 2020; 8 (1) DOI: 10.1093/burnst/tkz003
Bayat, A., McGrouther, D. A., & Ferguson, M. W. (2003). Skin scarring. BMJ (Clinical research ed.), 326(7380), 88–92. https://doi.org/10.1136/bmj.326.7380.88
Ngaage M, Agius M. The Psychology of Scars: A Mini-Review. Psychiatr Danub. 2018 Nov;30(Suppl 7):633-638. PMID: 30439862
Akoh CC, Orlow SJ. A Review of Vitamin D and Scarring: The Potential for New Therapeutics. J Drugs Dermatol. 2020 Jul 1;19(7):742-745. doi: 10.36849/JDD.2020.4986. PMID: 32721140.
*These statements have not been evaluated by the Food and Drug Administration (FDA). This product is not intended to diagnose, treat, cure, or prevent any disease.
Ingredients: Aqua, Dimethicone, Panthenol, Hexapeptide-9 (Collaxyl™), Allantoin, Rosa Rubiginosa (Rosehip) Seed Oil, Carbomer, Triethanolamine, Phenoxyethanol, Potassium Sorbate.
Collaxyl™ is a trademark of Vincience S.A.
Additional Info
Directions: Gently massage into scar until absorbed once or twice daily for 8 weeks on new scars, and once daily for 3-6 months on existing scars.
For external use only. Do not apply to open wounds. Avoid contact with eyes. Keep out of reach of children. Store in a cool, dry place.
Reviews
Customer Reviews
Write a Review
Ask a Question
Works good
This is easy to use (just dab on the areas--and I have a few of them). I noticed improvement in the post foot surgery scar within a day or two.