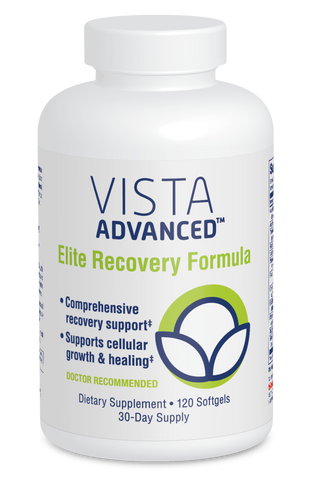 VISTA® Advanced Elite Recovery Formula (120 softgels)
SKU:

68874
VISTA® Advanced Elite Recovery Formula is a comprehensive post-operative nutritional supplement made to support the body's natural healing processes. Our best blend of nutrients promotes a healthy inflammatory and immune response while supporting cellular growth and healing.*
30-day supply
Fish oil and triglycerides along with potent antioxidants for a healthy inflammatory response*
Enriched formula with Glutamine and Zinc for immune system support*
Supports cellular growth and healing with Magnesium, B vitamins, and more!*
90-Day Money Back Guarantee
VISTA® Advanced Elite Recovery Formula
Surgery may not be desired, but it is often required to improve one's condition, functionality, and overall quality of life. More than 200 million surgical procedures are performed globally every year. While most are relatively minor, millions are more invasive and require extensive downtime. Surgery involves an incision, and depending on the procedure, may further necessitate the physical removal, repair, or readjustment of organs and tissues. It is important to understand how the body heals naturally and what you can do to support it during recovery.
Road to Recovery
The road to recovery is highly variable and depends on many factors, such as type of surgery, invasiveness, age, and health prior to the procedure. The healing process is very complex, yet, under the right circumstances, it can produce extraordinary results. Therefore, it is critical to support your body—giving it every opportunity to heal. Keep in mind, that recovery takes time. Make sure to get adequate rest, keep hydrated, and follow your doctor's advice.
To further support your body's natural healing process, you should eat a balanced diet that includes lean protein, healthy fats, nutritionally dense fruits, and vitamin-packed vegetables. Post-operation, the body needs ample energy and the appropriate building blocks to repair and regrow tissue. Furthermore, a rich supply of antioxidants and anti-inflammatory agents promotes a healthy immune and inflammatory response.
It is not always easy to meet your daily nutritional requirements—especially after surgery when cooking meals prepared with healthy whole foods might be out of the question. If you have any gaps in your diet, then taking a high-quality supplement, such as VISTA® Elite Recovery Formula, to meet your needs can be advantageous.
VISTA® Advanced Elite Recovery Formula
VISTA® Advanced Elite Recovery Formula is a post-operative formula made to support the body's natural healing processes and aid in recovery. This comprehensive, all-in-one formulation consists of healthy inflammatory response nutrients, powerful antioxidants, immune support boosters, and cell rejuvenating and restorative vitamins and minerals.*
Omega-3 Fatty Acids: Omega-3 fatty acids from fish oil are famous for their salubrious effects on various tissues and organs in the body. Omega-3 fatty acids are found in few foods apart from fatty fish, such as salmon, and shellfish. If you are not eating seafood weekly, then you are likely missing out on the essential fatty acid that your body needs to function at its best. Omega-3 fatty acids support a healthy inflammatory response and may improve recovery after surgery. Our top preparation includes fish oil in the form of triglycerides, which evidence suggests is more easily absorbed in your body. As a result, you get the same benefits but at a lower dose.*
Turmeric: Turmeric (Curcuma longa) is a spice from the ginger family, that has been used in Indian cuisine and traditionally in Ayurvedic medicine for its health benefits since ancient times. It contains intriguing chemical compounds called curcuminoids, one of which curcumin. Turmeric is a powerful antioxidant shown to support joint, heart, brain, and cellular wellness, by promoting a healthy inflammatory response.* Natural plant-based enzymes Pancreatin, Papain and Bromelain, are commonly used for their digestive and healing properties.* These enzymes are very similar to the body's own enzyme, pepsin, that breaks down proteins in food.
Antioxidants: VISTA® Advanced Elite Recovery Formula aids in cellular health through a combination of potent antioxidants, CoQ10, resveratrol, and Quercetin. When the body is healing, it needs extra energy to support a proper immune response, repair damage, and build new tissue. A limiting factor is CoQ10, which is an important antioxidant used by mitochondria. Mitochondria are commonly called the powerhouse of the cell—and for a good reason! They break down nutrients to produce ATP (adenosine triphosphate), which is the energy used at the cellular level. Without CoQ10, the mitochondria would fail to produce the energy for cells to function at a basic level, much less to the degree needed for an optimal recovery. As an antioxidant, CoQ10 also helps protect cells from oxidative damage.* Resveratrol is a naturally occurring compound known as a polyphenol that is found in the skin of grapes and red wine*. Quercetin is a flavonoid found in a variety of plants, where it has antioxidant and anti-inflammatory effects. It helps our bodies to combat free radical damage.* Free radicals are reactive species of molecules that can cause damage to DNA and the lipid membranes of cells. If left unregulated, free radicals can contribute to oxidative stress, which is hypothesized to be responsible for aging and disease.3
Immune Support Boosters: The immune system plays an integral role during all phases of recovery following surgery. Most notably the immune system protects the vulnerable surgical site from becoming infected, which can lead to sickness, tissue damage, and delayed healing. Both inadequate and excessive immune responses can lead to problems with healing.4 Having a healthy immune system that functions with a balanced response is critical for optimal recovery. Glutamine, one of the most abundant amino acids in the body, supports the health of the cells lining the gastrointestinal tract and is important for immune function.1 Studies have shown that using glutamine-enriched formulas after surgery increased immune cell activity, shortened hospital stays, and improved nutritional status. Zinc is considered an essential nutrient required for numerous processes in your body, including immune health and growth and development. People that have a deficiency in zinc may experience greater vulnerability to pathogens.5 This is because macrophages—white blood cells that detect and engulf bacteria and other harmful organisms—are adversely affected when people do not get adequate levels of zinc.
Cellular Rejuvenation and Healing Matrix: Everyone needs B vitamins to be at their best—especially while recovering. Studies have shown that B vitamins after surgery prevented post-surgical reductions in immune activity. In addition, the Vitamin B complex helps support cell health, red blood cell production, and energy levels. Deficiency in B vitamins has been linked to various negative outcomes, such as mitochondrial dysfunction, immune dysfunction, and inflammatory conditions. 6 Magnesium is an essential mineral to the human body needed for a long list of physiological functions. It is required for bone, protein, and fatty acid formation, making new cells, activating B vitamins, relaxing muscles, clotting blood, and forming ATP (the energy produced by mitochondria and required to power cellular activity). These processes are always necessary but are in demand when the body is recovering and rebuilding new tissue. Your body uses vitamin K to produce the proteins that go to work during the clotting process. Blood coagulation not only helps to form a scab over wounds or the site of incision to prevent outward bleeding and infection, but it also helps prevent excessive bleeding inside the body.
References:
Thankam, F.G., Chandra, I.S., Kovilam, A.N. et al. Amplification of Mitochondrial Activity in the Healing Response Following Rotator Cuff Tendon Injury. Sci Rep 8, 17027 (2018). https://doi.org/10.1038/s41598-018-35391-7
Lobo, V., Patil, A., Phatak, A., & Chandra, N. (2010). Free radicals, antioxidants and functional foods: Impact on human health. Pharmacognosy reviews, 4(8), 118–126. https://doi.org/10.4103/0973-7847.70902
MacLeod, A. S., & Mansbridge, J. N. (2016). The Innate Immune System in Acute and Chronic Wounds. Advances in wound care, 5(2), 65–78. https://doi.org/10.1089/wound.2014.0608
Shankar AH, Prasad AS. Zinc and immune function: the biological basis of altered resistance to infection. Am J Clin Nutr. 1998 Aug;68(2 Suppl):447S-463S. doi: 10.1093/ajcn/68.2.447S. PMID: 9701160.
Mikkelsen K, Apostolopoulos V. B Vitamins and Ageing. Subcell Biochem. 2018;90:451-470. doi: 10.1007/978-981-13-2835-0_15. PMID: 30779018.
*These statements have not been evaluated by the Food and Drug Administration (FDA). This product is not intended to diagnose, treat, cure, or prevent any disease.
Additional Info
Suggested Use: Take 4 softgels daily with a meal, or as directed by a healthcare professional. For best results, take two in the morning and two in the evening with meals.
Caution: Consult a healthcare professional if you are pregnant/nursing, taking any medication or have a medical condition.
Store in a cool, dry place. Keep out of reach of children. Do not use if seal is broken.
Reviews
Customer Reviews
Write a Review
Ask a Question
08/26/2023
Anonymous

United States
Big pills
I had extensive hand surgery... Nerves and tendons removed and transferred. I am not sure product helped a noticeable difference as I and still in recovery. Nerves take several months to regenerate. I will say that I believe if I had NOT taken this "recovery" product, it might have been more severe pain in the healing, burning process of these nerves regenerating. Yes I would purchase those product again. SIDE NOTE: BILaw is a firm believer after back surgery...
03/26/2023
Sally S.

United States
The best
I am on my second bottle. The fact that they are very expensive. They have done amazing things in my life. I had three surgeries this last year so I have lost a lot of vitamins in my body. This is worth every dime.
03/01/2022
Jeffery S.

United States