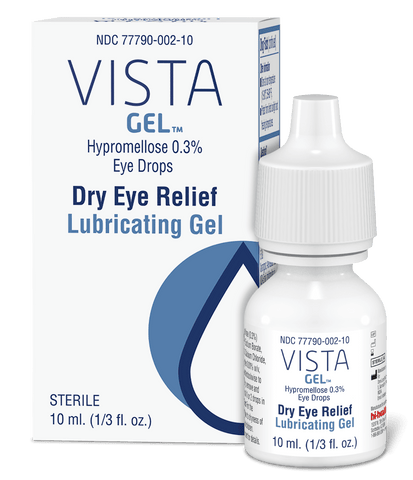 VISTA® Gel (10 ml)
SKU:

68833
Designed as a thicker gel-like coating to provide extended relief for dry, burning & irritated eyes.
Contains the highest concentration of hypromellose 0.3%
Thick gel-like coating provides extended comfort and helps to alleviate even the most irritated eyes
Pharmaceutical grade ingredients manufactured with the highest quality standards
90-Day Money Back Guarantee
VISTA® Dry Eye Relief Gel (Hypromellose 0.3%)
Considering how much we rely on our eyes, it is shocking just how delicate they are. Our highly specialized eyes are complex and extremely susceptible to damage. Fortunately, our bodies have several protective mechanisms in place to keep our eyes functioning at their best—including our tears.
Tears are not just for expressing emotion—they are a complex aqueous mixture of phospholipids, mucus, and nutrients that provide a defensive barrier against bacteria and debris while also keeps our fragile eyes nourished and moist. When our tears are balanced, our eyes are clear, healthy, and smooth. Without tears, our eyes would be vulnerable to harsh environmental conditions and endlessly irritated. Just as wiper blades scrape across a car's windshield when it is dry— our eyelids would likewise cause frictional damage without tears to lubricate the surface. Ouch!
Causes of Dry Eye
Unfortunately, a significant percentage of people—roughly 30 to 50%—experience the pain associated with dry eyes. Approximately 16 million Americans have been diagnosed with dry disease (DED)1, although this number likely underestimates the true prevalence of DED.
Several factors may contribute to or exacerbate dry eye, including poor sleeping habits, sleeping with the eyes partially open (nocturnal lagophthalmos), dry air, exposure to digital screens, and eye surgery (e.g., Lasik, glaucoma, or cataracts surgery). Women and people who wear contact lens are also more likely to report irritation associated with dryness.
Dry eye can also be directly caused by problems associated with tear production. Some people produce too few tears, while others may produce poor quality tears that lack the oils essential for stabilizing the tear film and preventing tears from evaporating too quickly. Both issues can occur simultaneously and are associated with discomfort and irritation. If left untreated, the condition can get worse overtime and may lead to severe inflammation as well as physical damage to the eye's surface.
VISTA® Dry Eye Relief Gel
VISTA® Dry Eye Relief Gel (with Hypromellose 0.3%) was designed specifically for people with chronic dry eye who struggle to find relief with normal eye drops. This gel was formulated in cooperation with leading dry eye specialists to support healthy eyes. Our products are manufactured in the USA and meet the highest quality standards.
The thick gel-like coating of this formula provides extended comfort and helps to alleviate even the most stubborn, irritated eyes. Our product contains the highest concentration of hypromellose 0.3% a potent, active ingredient that acts like your natural tears to restore moisture to dry, burning, and itchy eyes.
What is Oxychloro Complex?
Stabilized Oxychloro Complex is used in eye drops as a gentle preservative that converts to sodium and chloride ions, oxygen and water on the ocular surface and is well tolerated in comparison to BAK and leaves no preservative residue in the eye.

References:
Farrand KF, Fridman M, Stillman IO, Schaumberg DA. Prevalence of Diagnosed Dry Eye Disease in the United States Among Adults Aged 18 Years and Older. Am J Ophthalmol 2017;182:90-8.
*These statements have not been evaluated by the Food and Drug Administration (FDA). This product is not intended to diagnose, treat, cure, or prevent any disease.
Active Ingredients
Purpose
Hypromellose USP 0.3% w/vLubricant
Inactive ingredients
Hydroxypropyl Guar, Dimyristoyl Phosphatidylglycerol, Edetate Disodium, Mineral Oil, Sorbitan Tristearate, Polyoxyl 40 Stearate, Boric Acid, Sorbitol, Stabilized Oxychloro Complex 0.01% w/v, Purified Water
Additional Info
Uses
For the temporary relief of irritation and burning due to dryness of the eye
Warnings
For external use only
Do not use
If this product changes color or becomes cloudy
If seal is broken or punctured
When using this product
Do not touch tip of bottle to any surface to avoid contamination
Replace cap after each use
Stop use and ask a doctor if
You experience eye pain
Have changes in your vision
Experience irritation or redness for longer than 48 hours
Keep out of reach of children
If swallowed get medical help or contact a Poison Control Center
Directions
Shake well before using
Instill 1 or 2 drops in the affected eye(s) as needed
Close your eyes for 10 seconds to allow for lubrication
Other information
Store at room temperature (15-30°C, 59-86°F)
Protect from direct sunlight and freezing temperatures
Questions
In the USA call 1-866-860-5269
Visit www.VistaOTC.com
Reviews
Customer Reviews
Write a Review
Ask a Question
08/27/2023
Anonymous

United States
Good Stuff
It helps a lot!
08/17/2023
Anonymous

United States
Face mask
It was very good I received the mask in a very good time
08/07/2023
Anonymous

United States
Comfortable drops
Gel is Longer lasting drops
05/20/2023
Anonymous

United States
Dry eye relief
I just had a cornea,transplant. This drop helped pull me through.
05/20/2023
Anonymous

United States
Vista gel
Works well, very well. Easy to order and fast to receive